I've always been intrigued with political franchises.
I used to study the crime bosses of Chicago and the political/criminal bosses of Japan. I met former Prime Minister Kakuei Tanaka once before his stroke and knew fairly well such interesting political warlords in Japan such as Michio Watanabe, Shin Kanemaru, Ryutaro Hashimoto, Ichiro Ozawa, Susumu Nikaido, Kiichi Miyazawa, Yasuhiro Nakasone, Koichi Hamada, Rokusuke Tanaka and others. Most of these folks were real kingpins.
Family franchises in politics are even more interesting. Taro Aso — the grandson of well-known post-WWII Japanese prime minister Shigeru Yoshida — may be on the verge of becoming Japan's next prime minister. He has built power more by cajoling friends and building alliances rather than through political muscle and the discipline created by hard cash, but he still clearly always was a political crown prince. I had the privilege of knowing Aso's tough as nails mother, Kazuko Aso, and one of his sisters quite well.
But back to the U.S., I just received a Democratic Governors Association note from Nathan Daschle, who is Executive Director of the DGA. His note came titled "The Next Big Thing: Project 2010" and pushed the new blog that the DGA has launched.
I really like Tom Daschle, Nathan's father. My former boss Senator Jeff Bingaman (D-NM) was one of the first to support Daschle in his bid to become Democratic leader in the Senate — and I often had a front row seat of his excellent mastery of the complex task of managing a bit less than five dozen and a bit more than four dozen US Senators.
To some degree it is really Tom Daschle's political machine that has been more important to Barack Obama than franchises controlled by the Daley clan, the Kennedy family, and the Clintons. Daschle's people are the ones who have animated and built out Barack Obama's incredible national operation.
And while Tom Daschle may not ever get the chance to serve as President of the United States — though i think he would have made a great president — I suspect that Daschle will bring some muscle and great skill to either the White House as Chief of Staff or to Obama's cabinet (if elected) as Secretary of Health and Human Services.

While Hillary Clinton really does know the nuts and bolts of a rebuilt and redeployed health care policy system, Tom Daschle does as well and may be the person who actually does deliver real, universal health care in the United States. I discuss health policy with former Senate Majority Leader and Obama Campaign co-chair Tom Daschle in the short clip above. A longer meeting at which Daschle spoke on the subject can be watched here.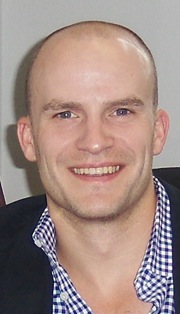 But what about the son, Nathan Daschle?
Well, Nathan, son of Tom, writes a snazzy letter, married well and got covered in Washington Life. If he thinks now about keeping his eye on good public policy, staying out of financial trouble, not taking short cuts, and learning how not to let minor squabbles and differences with others distract from the battles really worth fighting, Nathan Daschle could be one of the names you see considered for high office down the road.
Here is a profile of the 34 year-old Nathan that ran in Washingtonian Magazine two years ago:
Word is that Daschle, the new general counsel to the Democratic Governors Association, would be on the fast track to legal stardom even if his father weren't former Senate Democratic leader Tom Daschle. Besides that, the young Daschle didn't have an ordinary childhood–he was written up as a nine-year-old for finding Vice President George Bush's glasses at the Rayburn Building pool. His mother is Laurie Fulton, a top partner at Williams & Connolly.
A graduate of Harvard Law School, Daschle worked for the Natural Resources Defense Council before joining the litigation department of Covington & Burling. After trying just one case, which he won, Daschle left Covington last June to become general counsel and policy director of the governors group.
Working at the intersection of law and politics puts Daschle in a position to influence politics for some time. Republicans who worked hard to pitch his father out of office may not find comfort in the rise of another Daschle, who might prove equally formidable.
Nathan Daschle, and his dad, will no doubt email me that this was an over the top blog post and will express surprise and dismay to friends and co-workers. They have to do that. Humility is key in town, spiced up with confidence and competence.
But I read the young Daschle's letter, and it came with no fanfare or indulgent line like "as the son of Tom Daschle, I am writing to. . ." It was a good, motivating note that let a lot of the political and policy class know that Nathan Daschle is increasingly becoming a name with which we should all become a bit more familiar.
This is just the way the system works — whether it should or not. So, you heard it here. I suspect Nathan Daschle may very well run for the highest office in the land some day. Despite the fact that I know little directly about him, I see nuances here of someone solid — and I like what I see so far, which is the beginning of political machine building.
To some degree, it's a lot more fun speculating about the country's leadership far down the road than it is writing about the same small cast of characters we now see around Obama and McCain every day from now until November 4th.
In fact, I bet TWN readers can think of some other potential presidential challengers down the road too. Feel free to record your thoughts below, but remember to be civil. (thanks)
And also remember to check out the DGA's Project 2010 Blog. . .which is the real reason I got to have some fun with this subject.
— Steve Clemons