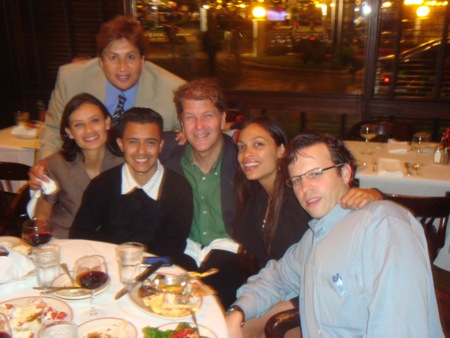 I've had a couple of weeks now of travel and have enjoyed most of it — to Denver for the DNC, Boston for APSA, and Minneapolis/St. Paul for the RNC.
The dinner I had with folks from Voto Latino was one of my high points (though if I look a bit whacked in this pic, it's because I was).
The dinner included (pictured above) Voto Latino Executive Director Maria Teresa Petersen, a gentleman standing whose name I need to get later, Voto Latino blogmeister Steve Alfaro, myself, actress and Voto Latino co-founder Rosario Dawson, and Bloomberg correspondent Tim Burger.
I've been briefed up on now on policy and political issues as seen from the Latino perspective. VL is a great group — and I'm posting this pic because so many of you sent me emails requesting it.
I hope Montel Williams takes a look at this because he was pretty jealous of where I was sitting while he was off with Newsweek's Jonathan Alter and the Washington Post's E.J. Dionne and Harold Meyerson among others. Huffington Post's Sam Stein was a bit beside himself as well as he strolled by and nearly choked when he said hi to us.
— Steve Clemons
Continue reading:

President Daschle?
Helping Out on "The Maverick" and "Keeping America Strong"