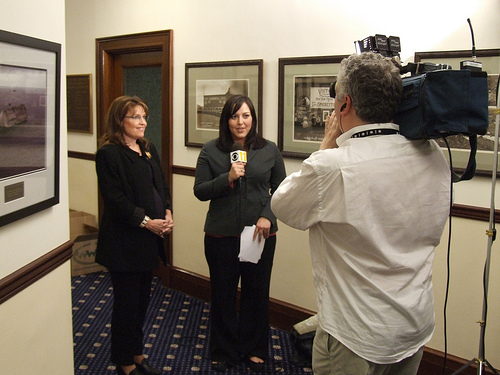 Like many, I have been sifting through the growing pile of circumstantial evidence that Alaska Governor Sarah Palin's fifth child, Trig, might be her daughter's child rather than her own.
I didn't write about this both because I was not convinced of the allegations, and I couldn't do more than add a decibel level to a growing sound machine that was convincing itself that there was significant, perhaps well meaning, fraud involved here. That would not have been a constructive contribution.
I have seen other cases in which a mountain of evidence points in one direction — but that turned out to be wrong. It seemed to me that there were potential explanations that fit Palin's character, and in these personal cases, she deserved better than the blogosphere's doubt.
Andrew Sullivan has finally helped end the dizzying frenzy, I hope. He links a photo of Palin (above) on "what was the last day of the Alaska Legislature's Session, on April 13, 2008, five days before Trig Palin was born."
I think that there are other legitimate questions for the McCain-Palin team and the Obama-Biden team that deserve our attention. And I hope we can move beyond this story about Trig's real mom now.
Thanks to Andrew Sullivan and those who helped dig a bit further than the photos and narratives on hand and for their general sobriety about this uncomfortable subject.
Off to Minneapolis/St. Paul now.
— Steve Clemons
Continue reading:

Sarah Palin May Solve McCain's Sizzle Problem
Who Chose Sarah Palin?