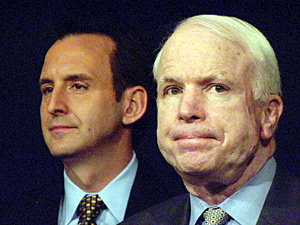 Rumors are swirling that Tim Pawlenty is furious – that he was on the edge of McCain announcing he was the GOP VP running mate – but that at the last moment, that course was rejected in favor of a person McCain met once, six months ago, and did not interview again.
Huckabee is not pleased that he wasn't even vetted – and he's letting his followers know.
But it may be that Alaska Governor Sarah Palin wasn't vetted either!
How did Palin get the job?
This piece by Tristan Snell at Open Left is worth taking a look at:
Who chose Palin?
Well, it certainly wasn't John McCain.
McCain only met Palin once, six months ago. Unlike every other major party VP nominee in recent memory, Palin did not meet McCain for a final interview before her selection.
A few weeks ago, she wasn't in the running at all. The scandals and unorthodoxies involving Palin — she flip-flopped on the Bridge to Nowhere and even raised sales taxes on her small town to pay for an overpriced boondoggle — show that the McCain campaign didn't vet her.
The McCains and Palins looked visibly awkward together, not even speaking as they went their separate ways on a brief shopping trip in Ohio yesterday.
McCain is on record as saying he wanted a running mate with whom he had a strong personal relationship — and who was ready to be president.
This was clearly not his pick. So again: Who chose Palin?
Was it Dick Cheney? Or Karl Rove? Or maybe James Dobson?
Read the rest here.
— Steve Clemons