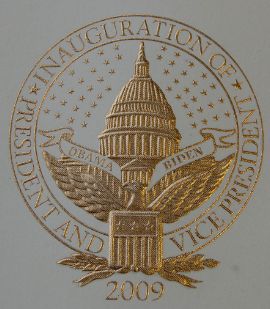 I've been asked by quite a few readers what I'm going to do and attend this weekend. So, I'll lay that all out here.
But first let me say that there are a lot of great gatherings in DC — some really cool ones — that I was invited to that I just can't attend. Netroots Nation, for instance, is putting together a great event. The Washington Film Institute is having its own big inaugural thing. And then there are a couple of LGBT Inaugural parties — one at the Mayflower Hotel and then one at the Historical Society of Washington. And in the former home of Averill and Pamela Harriman in Dupont Circle, the Woman's National Democratic Club is having a chi chi reception that I can't quite get into the schedule this year.
And then MoveOn and a lot of other organizations are having a big giant party somewhere — but I responded too late for it and was told that I was out of luck. The person was very friendly though and told me that though I couldn't go to the real MoveOn party, I had lots of other options for home-hosted Inaugural Party events sponsored by MoveOn members all over the country. I'm not going to hit one of these, but some of you might want to. Here's the MoveOn party tracker. (but be sure to check Pam Spaulding's sassy response to one of those local MoveOn invites. . .very snarky but shows how solid Pam's principles are when it comes to the Rick Warren deal)
But what I am doing — though it's still in a bit of flux is the following. . .and of course, I'm always waiting for that next best thing. . .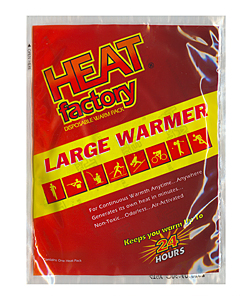 Yesterday, I picked up my press credentials at the DC Convention Center and want to tip my hat to the smoothest, friendliest press credentialing operation I could have imagined for something this big. Everyone was great — and I figure that these folks were volunteers. They gave me a couple of industrial type "hand warmers" — probably something NASA developed or which bubbled out of the dual use programs at one of the nuclear weapons laboratories. But at 12 degrees farenheit, I'll take anything.
Seriously, a very big thanks to the volunteers and organizers of the press office. I wasn't made to feel awkward at all that I was more journoblogger than journalist.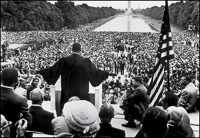 Then I started the weekend off with a joint MLK Day/Inaugural "drink all their surplus wine party" at the home of former National Telecommunications Infrastructure Administration Director Larry Irving and his diplomatic communications consultant spouse Leslie Wiley. Met a lot of cool folks there including the former Chief of Staff of the US Information Agencey Iris Burnett — whose husband Dave snaps Obama photos sort of like this.
Great party. Leslie and Larry had one of those fancy, engraved invites from Obama and Biden to attend and participate in the Inaugural — but as Larry Irving told me, the invite got them "zilch." It's an invite to stay home and watch on TV (which perhaps we all should do).
But here is how the rest of TWN's Inaugural period looks like at the moment. . .
1. On Saturday, we will be attending a party honoring the Illinois Delegation hosted at the home of British Ambassador to the United States Nigel Sheinwald. I've heard from quite a few folks that this one of the tougher events to get in to. . .so many thanks to my friendly readership at the UK Embassy. Check out the Embassy blog.
2. Media Matters for America chief David Brock is hosting an Inaugural bash at the Hirshhorn Museum and Sculpture Garden Saturday evening — and I'll be there (not in the cold garden).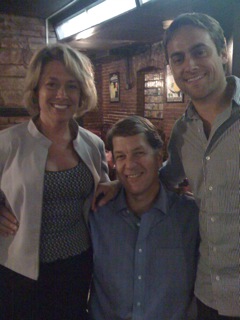 3. Fair trade crusader and Public Citizen Global Trade Watch Lori Wallach is having a Latin-themed house party up in Adams Morgan tonight, and that too will get some of our attention tonight. Wallach was a close advisor to actor and filmmaker Stuart Townsend in the making of his interesting feature film, Battle in Seattle. One of the coolest evenings I had this past year was one spent with Wallach and Stuart Townsend when I helped host a premier screening of his film. And then we all went to hang out with Jackson Browne who sang his Cuba song that night.
That should get us to Sunday morning.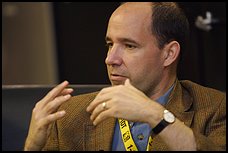 4. I'm going to do some Canadian and British TV punditry in the morning — and then go running in the frigid weather in Rock Creek Park with some others who want to have a Martin Luther King/Inaugural celebratory run. I'm being dragged into it — and will be suffering.
5. Then there is a brunch in honor of UT Austin/LBJ School economist James K. Galbraith, author of The Predator State: How Conservatives Abandoned the Free Market and Why Liberals Should Too at the home of Janine Wedel who has been writing about the informal, in the shadows power networks of the neoconservatives. Wadel's book will be out this next year. Galbraith, son of the late Harvard economist and close JFK adviser John Kenneth Galbraith, is also the academic colleague of James Steinberg who will be the next Deputy Secretary of State.
6. And then Sunday evening, I am going as the date of a friend to the Georgetown home of Maureen Dowd who is having a very high sizzle celebratory affair to commemorate the Inauguration. Very excited about that one.
7. And then Sunday, I'll be out to hear Bruce Springsteen and others on the Mall. . .at least for a few minutes depending on the temperatures. Don't look for me. I'll be completely buried in scarves and jackets…and am thinking of wearing heated goggles…

8. On Monday, Martin Luther King day, I'll be doing something in the morning as a gesture to public service. I haven't figured out what I am going to do — but I was impressed with a gesture by the Obama Presidential Inaugural Committee and Colin Powell to encourage people to go to this website to look at various volunteering opportunities they might get involved with. I recently attended a news conference with Colin Powell who helped launch USA Service — sort of a hybrid of Craigslist and Meetup.com.
9. I'll be doing an Inaugural/MLK celebratory LGBT brunch on Monday at the home of some cool friends.


10. Then, a very cool new thing started by Council on Competitiveness guru Chad Evans and Paul Soulellis titled "The Inaugural Salon". Chad Evans is one of the smartest guys I've ever met — and he can write perfect script backwards — like Da Vinci. This "Inaugural Salon" is billed as a "gathering on the eve of change" and will be taking place at Sweden House in Washington. I think some tickets for participation may still be available.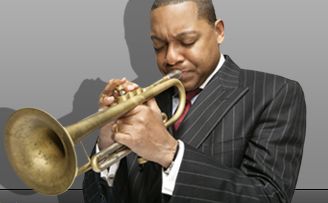 11. And then the Rockefeller Foundation is hosting several of us from The Washington Note at a Wynton Marsalis concert at the Kennedy Center's Eisenhower Theater. Former Supreme Court Justice Sandra Day O'Connor is also playing a role in the event titled "A Celebration of America" — and this ticket looks like one of the most sought after during the weekend. Good music and in a warm venue! Then there are cocktails and treats after, but I'll have to be running off to. . .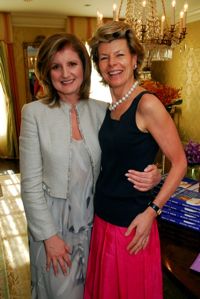 12. The Arab American 2009 Inaugural Celebration at the Fairmont Hotel sponsored by the Arab American Institute and Foundation run by Jim Zogby will be one of the cooler and funkier pre-Inaugural deals in town. I will be there for a while — and think that it would be wise of the incomning Obama administration upper echelon to make sure that they reach out to this community that got far too much abuse and mistreatment during the campaign. I hope Mazen Asbahi will be there.
13. And then there will be the high sizzle pre-Inaugural Ball Countdown Party at the Newseum sponsored by Huffington Post, the Atlantic Philanthropies and the Musk Foundation. Sorry, I can't get anyone tickets (have had a flood of requests) — but I will be there for lots and lots of this party. I think it looks to be one of the very best. . .
15. Early in the morning on Tuesday, I'm off with my press passes to see what I can see at both the Lincoln Memorial opening ceremonies and then will be at the Swearing In. I haven't figured out yet whether I will really be able to cover both — as the National Mall is long and will be filled with millions of people and lots of security zones. I may have to choose — and will just see how it goes. Once I'm nearly frozen or done with the ceremony that most of you will see better on C-Span, CNN or MSNBC, I'm off to. . .



16. The Canadian Embassy on Pennsylvania as a guest of Ambassador Michael Wilson who has the most coveted little party gathering on the parade route. The Embassy, which will be backed with DC notables who want to stay warm and yet close to power, will have great treats, hot chocolate and a 2nd floor viewing deck from which the parade can be closely and easily observed.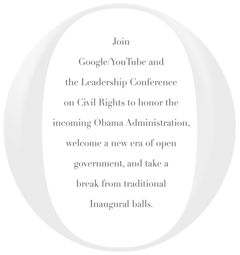 17. Then I was supposed to stop by Verizon's offices for a drop-by open house also on the parade route, but they invited me, said I could get credentials and then I goofed and forgot to get them. So no Verizon drop by's this year. Regrets to Link Hoewing.
18. I will be stopping by both Google's offices and the Ploughshares Fund, run by Joe Cirincione, Naila Bolus and Terri Lodge — all doing great things in nuclear non-proliferation and crisis reduction areas. They have offered strategically vital open houses to provide warmth for those who have to walk the several miles back from the parade route to their DC homes. Thank you!
19. And then I'll be taking a nap, perhaps blogging, or thawing in front of a fire.
20. And then Tuesday night, I'll be at the non-traditional Inaugural Ball hosted by Google/YouTube and the Leadership Conference on Civil Rights at the Andrew Mellow Auditorium on Constitution Avenue. That will be fun. . .
21. And if it gets a bit old or I get tired, I may hit two other late night gatherings — one on the right and one on the left. . .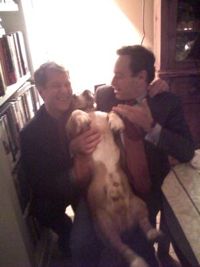 a. On the right side, Danielle Crittenden and her spouse David Frum will be hosting in their pretty magnificent home. . ."The Counter-Inaugural Ball". Frum has just launched his new effort to re-engineer, redirect, and revitalize Republicanism with his group blog, New Majority. I plan to stop in there and check in with their two labradors, Copper and Chester, and their young daughter Beatrice who I am sure is already well on her way to becoming a smart, dad-frustrating progressive activist.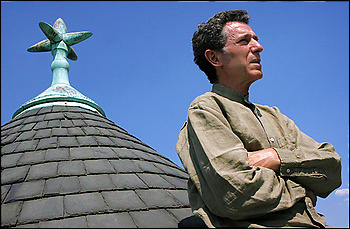 b. On the left side of town politics, I hope to be stopping by the heated roof deck of progressive philanthropist and former Tweezerman tycoon Dal LaMagna who along with DC socialite Juleanna Glover is having an Inaugural "midnight breakfast" gala. Thank god Dal leaves across the street from my house — where I will then collapse and think about policy proposals jumping over fences. . .
And then that's about it — but I may try to squeeze a few more things in here and there, and hey if Joe and Jill Biden call and ask my partner and me to ride around in the limo with them, I may have to let the David Frum and Dal LaMagna gatherings go.
For those of you in DC (or even outside) who want a good roster of what is up and what is formally sponsored by the Presidential Inaugural Committee, this is a great site. And here is the Inaugural Blog.
I'll be doing a lot of updates during the weekend over Twitter and Facebook — and my updates will run regularly on Huffington Post's twitter feed as well.
There are many serious problems going on around the world — and I will be digging into policy areas during the next several days as well.
I have an overdue commentary on America's foreign policy czars who will be deployed to the Middle East and South Asia that will be up soon, so don't think that what is really going on in my mind as I flit from one party to another is distant at all from the tragedy in Gaza and the continuing crises in America's foreign policy portfolio.
I hope folks will share what they are doing this Inaugural weekend in the Comments Sections.
Stay warm and safe if you are trying to do the Obama/Biden Inaugural in person and real time.
— Steve Clemons