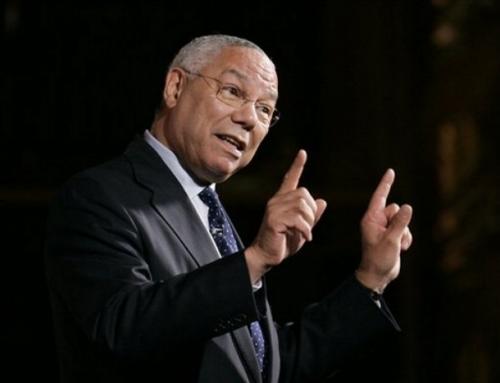 (photo courtesy of Atlantic Council of the United States)
Barack Obama has invited Colin Powell in to see him today — and knowing General Powell's respect for the Office of the President, whether occupied by Barack Obama or George W. Bush, we aren't going to have a fully informed read of what transpires in this meeting for some time, if ever.
As Laura Rozen notes, Defense Secretary Gates will be meeting with the President two and a half hours after the chat with Powell.
But while not knowing whether Barack Obama is meeting with Powell to get a tutorial on what to do about the growing challenges in Afghanistan, or getting the General's views on an Iran strategy, or perhaps kicking Powell's tires about taking on some kind of national role — perhaps as a presidential emissary for public service or as yet another super-czar focused on the Middle East or becoming the President's lever in rolling back Don't Ask, Don't Tell — I think Powell should take the opportunity to convey some Powell-isms to Barack Obama.
The eight pillars of the Powell Doctrine, which means achieving victory by applying overwhelming assets to a clearly defined challenge, are worth working through — whether in considering a build-up on Afghanistan or hatching another war:
1. Is a vital national security interest threatened?
2. Do we have a clear attainable objective?
3. Have the risks and costs been fully and frankly analyzed?
4. Have all other non-violent policy means been fully exhausted?
5. Is there a plausible exit strategy to avoid endless entanglement?
6. Have the consequences of our action been fully considered?
7. Is the action supported by the American people?
8. Do we have genuine broad international support?
Barack Obama's "good war" on Afghanistan does not fare well when viewed through Powell's portals.
George W. Bush, at the beginning of his presidency, had several tutorials from journalist and national security expert Robert Kaplan on how to conduct foreign policy decisions in a world in which Bush believed American power was on the ascendancy.
Colin Powell will hopefully be given the opportunity by Obama to teach the President a few things about the cultivation and deployment of power in a world that doubts America's ability to achieve its objectives.
— Steve Clemons