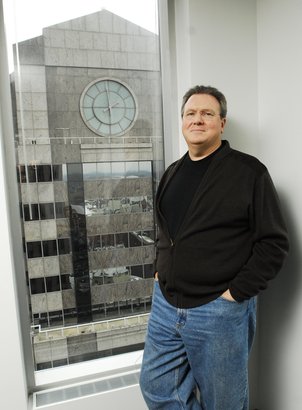 A friend and member of my New America Foundation/American Strategy Program Director's Council, Richard Vague, was profiled this morning in the Philadelphia Inquirer. I will be posting today a guest post by Vague here at The Washington Note, but this morning's profile by Joseph N. DiStefano deserved special mention.
Vague used to be a fairly conservative businessman and a giant in the U.S. credit card business. He got out of that sector and is now a leading innovator in the retail energy sector, but thinks that jobs and economic hope are better motivators than bullets in our foreign policy efforts.
Here is a section of this snapshot by DiStefano in which Vague raises doubts about increasing the military stakes in Afghanistan:
Richard W. Vague, chief executive officer of Philadelphia electric-power marketer Energy Plus Holdings L.L.C., cheered when Sen. Joe Biden (D., Del.) was tapped as Barack Obama's No. 2. (photo credit: Jonathan Wilson/Philadelphia Inquirer)
Vague's career as a Wilmington credit card bank boss resulted in his becoming friendly with Biden. Last year, Biden placed Vague, who was organizing public-policy forums questioning the Iraq war before that was fashionable, on the State Department's Advisory Committee for International Economic Policy.
"I've been faithfully attending," Vague told me, "but there are a whole lot of cooks in the foreign-policy kitchen these days."
Vague was "very discouraged" to hear over the weekend that the United States plans to send up to 30,000 more troops to Afghanistan next year.
"My sense is, that is the last thing we need to do," Vague said. "Obama said in his campaign that he would escalate in Afghanistan, but I had hoped he was saying that as a way to deflect questions regarding Iraq without appearing soft, and when the time came he would exit Iraq but resist escalating in Afghanistan.
"The trouble is that we could defeat the Taliban, al-Qaeda and the warlords in Afghanistan again and again, but unless someone provides a viable economic path forward for the broad citizenry there, it won't matter. They'll just come back."
Vague said analysts had suggested that the United States buy Afghanistan's illicit drug crops as a way of easing tensions. He says that's no crazier than the way the United States paid tens of thousands of insurgents – "our former Sunni antagonists" – to stop shootings in Iraq.
"This all seems absurd in the context of our current economic crisis," Vague added. He hopes spring reinforcements will be the last troops we'll need to send.
Richard Vague's article on the economy, written for The Washington Note will be up in a couple of hours.
— Steve Clemons