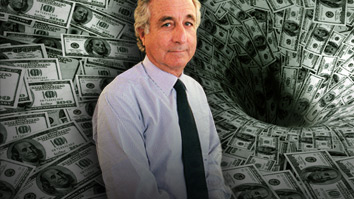 I have only been watching the Bernie Madoff affair from a distance — because despite the scale of the fraud, what has befallen the American and global economies and gut-punched real people's lives make the Madoff scheme sadly, almost unbelievably trivial. But I was at a dinner recently with legendary journalist Arnaud de Borchgrave where he outlined how Madoff's fraud had rippled through the wealthiest corners of the American Jewish philanthropic community — an old story now to many — but de Borchgrave has a way of making his commentary incredibly vivid.
Yesterday, de Borchgrave had an interesting piece on the UPI site further outlining the regulatory incompetence and negligence in the Madoff case when other whistle blowers were blowing their whistles loudly:
In 2000, Harry Markopoulos, a Greek-American leading expert on derivatives, wrote to the Securities and Exchange Commission's Boston office to inform the federal watchdog of markets that Bernard L. Madoff was running "the world's largest hedge fund fraud." He stipulated, "My name not be released to anyone other than the branch chief and team leader in the New York region, without my express permission."
Mr. Markopoulos was worried about his safety and that of his family. He said his report was written solely for the SEC's internal use." He was clearly afraid of assassination. But his red flag was only one of 28 such warnings to the SEC in the first eight years of the 21st century.
A Greek-American friend of Mr. Markopoulos, now in Switzerland, wrote in his blog, "He nailed Madoff, listing the back-door marketing and financing schemes as if he were an insider.
But the SEC did not respond. Powerful political voices ordered the SEC not to proceed. I am not naming names because libel laws mostly favor the criminal in Europe, and their names will never get past libel lawyers. The largest investors were not Jewish charities as was reported by New York newspapers, but French, Spanish and Swiss private banks."
Mr. Markopoulos predicted the implosion of all the main funds (which he named) that dealt with Mr. Madoff four years before they imploded. That nobody listened or did anything about it is an even bigger scandal.
A total mental meltdown of 3,000 SEC bureaucrats, each presumably endowed with average mental faculties, and a headquarters festooned with red flags, taxes credulity.
Amazing, and just gross negligence all around.
President Obama has said that he isn't going to enforce consequences and call for accountability in the nefarious acts done by the last administration in national security affairs. What about economic crimes?
— Steve Clemons