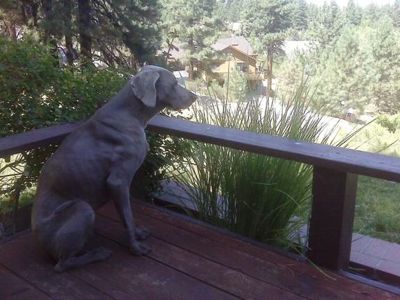 (Oakley the Amazing Weimaraner waiting for Steve to get home for the surprise birthday party)
Good morning all. Today, we are 47. Well, I am actually. Today is not only my birthday but it also marks the 150th anniversary of the first commercial oil well in the world — in Titusville, Pennsylvania on August 27th, 1859. Global oil and energy guru Daniel Yergin shared that cocktail chatter about today's date a few weeks ago with me.
We also share this birthday with New School President and former US Senator Bob Kerrey, with whom we have organized a few collaborative events in the past; Pee Wee Herman, President Lyndon Baines Johnson, my junior high school pal and Spencer T. Videon Funeral Home Boys Choir lead soprano Nick Scogna (Nick and I both went to the same middle school — Beverly Hills Middle School in Upper Darby, PA — that Tina Fey attended), an old college running friend and engineering genius Brian Strom, and a couple of my office colleagues — Benjamin Katcher who regularly posts on TWN and Jonathan Wallace who is the right hand apparatchik of Steve Coll at the New America Foundation. For years, I thought Mother Teresa also shared a birthday with me — but actually, she was technically born yesterday but as she was baptized on August 27th, she used to insist that her birthday was really today.
Speaking of Tina Fey. . .Thanks to Taegan Goddard's Political Wire, I caught this bit on Sarah Palin either flaking out on speaking at events at which she agreed to speak — or to give her the benefit of the doubt, organizations that had wrongly reported that they had secured Palin as a speaker. If it is the former, then progressive non-profit organizations that have an IRS responsibility to demonstrate non-partisanship could check off that box by inviting her — and then counting on her not to show up. Just a thought. . .
From the Anchorage Daily News:
Organizers of an Anchorage event that has been billing Sarah Palin for weeks as a star speaker were left scrambling Wednesday after learning that the former governor won't be there for tonight's event and claims to have never been asked.
It would be at least the fourth time in recent months that an anticipated Palin speech has fallen through after Palin and her camp disputed they had ever confirmed it. That includes the brouhaha over whether she'd speak at the annual congressional Republican fundraising dinner in Washington, D.C., this summer.
This time it's an event promoting an Alaska ballot measure aimed at making it illegal for teens to get an abortion without telling their parents. The Alaska Family Council has been advertising that Palin would give a speech and become the first official signer of the ballot petition tonight at ChangePoint, the Anchorage megachurch.
This kind of thing is not going to help her $$ receipts from speaking fees that she hopes to rake in over the next few years. Count me happy about this.
More soon.
— Steve Clemons