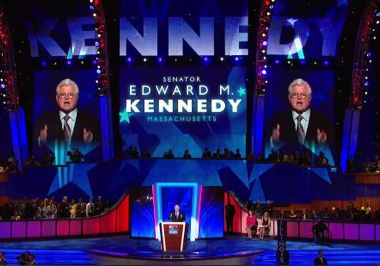 I just received word at Charles de Gaulle International Airport in Paris that Senator Ted Kennedy has died at age 77.
While his passing was increasingly expected, it doesn't make the time and day of his death any less significant and sad.
As John McCain said, Ted Kennedy was probably the United States Senate's last lion — a powerhouse politician and sculptor of vital national policy designed to help those that our increasingly winner takes all system leaves behind.
I've had the privilege of a long line of encounters with the late Senator, his long time core staff, and several members of his family. I used to see Senator Kennedy in the back halls and corridors of the Senate — sometimes looking "flat", "lost", sometimes even confused or checked out — only to see him moments later on the floor of the Senate turn an internal switch on and give some of the most compelling, detail-rich, sweeping calls to legislative action that I have ever heard from that chamber.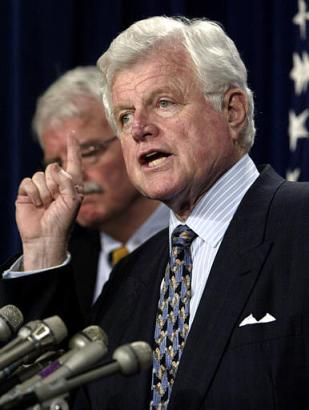 I have really enjoyed in recent years, particularly during the Obama campaign, watching Kennedy's fire burn more consistently and brightly.
When I worked in the United States Senate for now Energy Committee Chairman Jeff Bingaman (D-NM), I made it a practice to study the structural characteristics of a Senator's office and watched how a variety of Senators managed (or not) to move past the passive act of legislative assent or disagreement by showing executive capabilities at deploying their financial, staff, and political resources to achieve and enact major policy.
Senator Kennedy's political franchise had no rival in the legislative branch of government, and the younger brother of the three Kennedy political trio may very well have been the very best "Executive Legislator" this country has ever seen.
Kennedy's political franchise is enormous. While I watched many US Senators see staff come and go — mostly indifferent to the young people who gave so much to help their Senators or Congressmen in their important work — Kennedy and his top generals acquired and nurtured policy and political talent and then made sure that those people stayed connected to "the family."
I will never forget the Kennedy family, staff and friends "holiday parties" in the Senate — — in which Ted Kennedy and his wife Vicki would come out dressed in surprise costumes. One of the most memorable was the year that Ted and Vicki came out as "Beauty and the Beast" singing specially crafted songs that were usually self-spoofing.
Barack Obama is a mesmerizing, inspirational leader — but he is also a highly capable mergers & acquisition synthesizer of political franchises. Obama started with elements of the Daley franchise in Chicago and then morphed in Tom Daschle's political machine. He built in John Edwards' crowd — and then was able to build in the Kennedy franchise with Ted Kennedy's all important blessing. The Clinton franchise is under the tent — but still has its own distinct character — but that is a story for another day.
Barack Obama would not have made it to the Presidency without Ted Kennedy.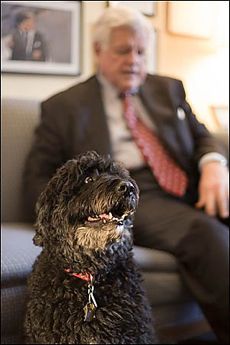 When the American Prospect was redesigned, editor Robert Kuttner and then DC editor (and now Talking Points Memo uber-blogger) Joshua Micah Marshall invited me to Ted Kennedy's Kalorama home for a great launch party. I ended up having a fascinating night with Kennedy who regaled a small group of us with some of his more memorable political war stories. He gave me a tour of his house as we got into a discussion about some of the old prints on his wall — other versions of which I owned after finding them stuffed behind an old cabinet in a very dusty Irish antique store.
I owe the Kennedy clan a lot for my relative success in Washington — and also want to send my condolences not only to his family members but to his long time staff members and spear carriers — particularly Gerry Kavanaugh and Nick Littlefield.
Kennedy would want his passing used in the very best of political senses by Obama to pass sweeping health care policy. In fact, Kennedy would insist on it.
My dog, Oakley the Amazing Weimaraner, used to run and play with two of Kennedy's portuguese water dogs, Sunny and Splash. Kennedy would use a tennis racket to whack out tennis balls to his hyperactive dogs….and my dog would chase them as a puppy. Ted Kennedy was always "on" when he was with them — and was a delight to chat with in that park.
I will seriously miss Senator Kennedy's presence in Washington and in national politics. He had foes and friends alike — some who despised all he stood for — but all saw his political machine as one of the most formidable and effective forces for the common man in American history.
Ted Kennedy, R.I.P.
— Steve Clemons