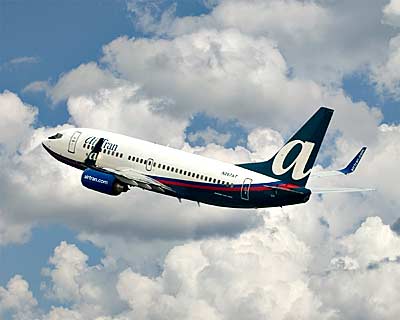 Feel free to add your own stories, but I think that given the number of times I (and all of us) are asked for customer feedback, I might as well make it public.
I have three culprits to harangue today:
AirTran
Racism towards Muslims in America must stop — and there is nothing more than ignorance and bigotry that can explain why AirTran would not allow a Muslim family from reboarding its plane after TSA authorities cleared the passengers as a threat of any kind to the aircraft. They were removed from the flight when other passengers heard member of the family talking about where "the safest place to sit" on the airplane would be.
I have heard Christians, agnostics, Jews, and pagans talk about where the safest part of a plane might be — particularly when planes today have run off airways, burst into flame, and even crashed. My United Airlines plane from San Francisco to JFK on New Year's Eve actually came within feet of touching ground and then abruptly aborted landing, shooting upwards, because of high winds. I wondered to myself whether being up near the front of the plane was better than sitting in the back — but I don't think United has any interest in banning me from its aircraft for wondering such things.
In any case, banning Muslims who are American citizens from normal life activities — particularly when they have already been subjected to security screening — deserves criticism and scorn.
Update: AirTran offers public apology and airfare compensation.
AT&T and I-Phone
I recently met a high-ranking AT&T executive who confided to me that he/she keeps a Verizon phone around at all times because AT&T's phone signal is undependable.
Despite hearing that advice, I allowed my staff colleagues at the New America Foundation to push me away from my old, always dependable LG Verizon phone to a new Apple made 3G I-Phone. I've had it for about four months, and I've been practically miserable ever since, at least in a phone sense. I never know whether I will be able to connect with people who call. I really can't do cell phone interviews on radio any longer — and after I landed on the once aborted United flight to JFK on New Year's eve — I needed to place a call to a transport company, and my call was dropped seven times despite all the bars being at "full" on the phone.
I have a very expensive piece of junk as far as I'm concerned — and am on the verge of going back to Verizon. So while this may sound like personal bitching — I can't believe that I can barely connect in this so-called broadband world we are supposed to be living in.
US Airways
I do a ton of traveling and prefer United Airlines — but as a high-level frequent flier in the Star Alliance, I also frequently fly US Airways. Anyone who flies a lot has to get used to the many adjustments that airlines need to make to be able to handle the complexities of weather, of safety systems, of engine and other machinery wear and tear. I think it's tough to be an airline in today's environment and thus I typically am pretty understanding of airline travel bumps in the road, so to speak.
But recently, when flying back from Pittsburgh to Washington, I arrived early enough at the airport to catch a flight that left two hours before the one I was booked on. If I paid a $50 fee, US Airways said it would allow me on the plane – which was nearly empty. I had no bags — it would have been zero problem for US Airways to allow me on the flight to get back early, as part recompense for the many, many times that US Airways had mismanaged by traveling situation in the past, or bumped me from a flight, or been chronically late, or had been incommunicative about what was happening with some respective flight having problems getting going. I would have loved to charge US Airways $50.00 for each time it had a problem.
But when US Airways had the opportunity to do something small — something easy — for someone who clearly had to deal with these problems all the time, they refused.
So, I'll keep flying US Airways — unless like the Muslim family mentioned in the AirTran Hall of Shame segment above I get banned — but I think that the airline's attitude and approach to dealing with passengers could use improvement.
But wait. All that said, credit where credit is due.
KUDOS to US Airways for allowing the AirTran-booted Irfan family to fly on its airline after AirTran wouldn't take them back. So, I have moved US Airways up a few notches in my own assessment of how they operate.
I hope all of you have better experiences that I and the Irfan family have had with these three firms and otherwise have a great start to your new year.
— Steve Clemons
Continue reading:

Five Must Read Books that Expose Bush Era DNA
What's Ahead?