Broadcasting Live with Ustream.TV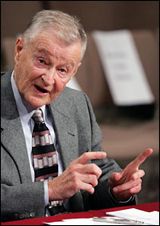 Tonight I will be moderating a discussion with two of the most significant foreign policy observers and practitioners in America today — Zbigniew Brzezinski and Brent Scowcroft.
Brzezinski, who is a Trustee & Counselor at the Center for Strategic and International Studies, was National Security Advisor to Jimmy Carter. Scowcroft, who chairs the Scowcroft Group and is co-chair of the Aspen Strategy Group of the Aspen Institute, was National Security Advisor to Presidents Gerald Ford and George H.W. Bush.
Tonight they and I will be discussing their new New America Foundation/Basic books release, America and the World: Conversations on the Future of American Foreign Policy which I think is the single best book now on the market of what America needs to do to get its strategic position back into positive territory.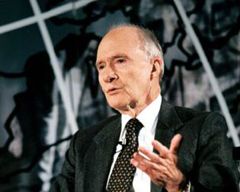 The two foreign policy giants recently engaged in numerous taped, moderated discussions about American national security and foreign policy with Washington Post columnist David Ignatius. This book authored by Brzezinski, Scowcroft, and Ignatius is the edited product of those discussions.
The LIVE STREAMING will begin at approximately 6 pm EST and the program will run until approximately 7 pm EST.
To buy your copy of the book, go here.
I am deeply vested in this book as to some degree, it was an idea I and the New America Foundation/American Strategy Program helped hatch and produce.
I want to thank Basic Books — all of its staff and leadership — but also its former Editor, William Frucht, as well as Perseus CEO Frank Pearl, Basic Books President John Scherer, Basic Books Publicity Director Michele Jacob, but especially. . .
Zbigniew Brzezinski and Brent Scowcroft — who are not only brilliant observers of the contemporary scene but who also are essentially the Jack Lemmon and Walter Mathau of U.S. foreign policy — as well as David Ignatius who knew how to provoke, to tease out and set the pace for an incredible, discussion and tour de force of America's current circumstances and prospects on the world stage.
More later. Watch with us.
— Steve Clemons