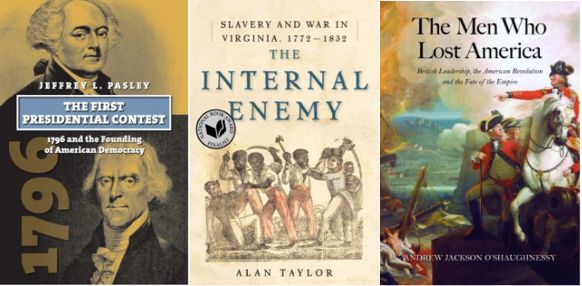 Supreme Court Justice Samuel Alito makes a habit (hope sharing this doesn't ruin it) of attending most years a special tribute dinner at George and Martha Washington's Mount Vernon — some times on the lawn; other times in the newly built history center.  The occasion is the presentation of the George Washington Book Prize, a $50,000 cash prize presented to the best book on America's founding era.
While Justice Alito and I come from fairly different political frames, we agree that studying and understanding dilemmas and challenges of America's early years matters.  He's fascinating on the subject — and extremely well-read in this genre of US historical treatments.
Washington College, founded in 1782 and the only US college bearing Washington's name to have actually had America's founding president on its governing board, has just announced on the 10th Anniversary of the prize — along with George Washington Prize partners, The Gilder Lehrman Institute of American History and Mount Vernon — the 2014 prize finalists.
They are Andrew Jackson O'Shaughnessy's The Men Who Lost America: British Leadership, the American Revolution, and the Fate of the Empire, Jeffrey L. Pasley's The First Presidential Contest: 1796 and the Founding of American Democracy, and Alan Taylor's The Internal Enemy: Slavery and War in Virginia, 1772-1832.
A fascinating set of subjects — the role of slaves and slavery during the War of 1812 (which UK to the US Ambassador Peter Westmacott recently, jestingly apologized for, adding that sacking Washington was perhaps a small price to pay for the Star Spangled Banner), the first US contest to succeed George Washington who changed the world by stepping down peacefully and willingly from his powerful position at the helm of the nation, and the perspectives of British citizens about the uprisings and revolution in the American colonies.
So when others are out purchasing new cars, clothes, and appliances at President's Day sales, perhaps these three books might make even better acquisitions.
I should also note that I have the privilege of serving on the Advisory Council of the C.V. Starr Center for the Study of the American Experience  at Washington College, which manages this important prize.  The winner will be announced in the Spring of 2014.