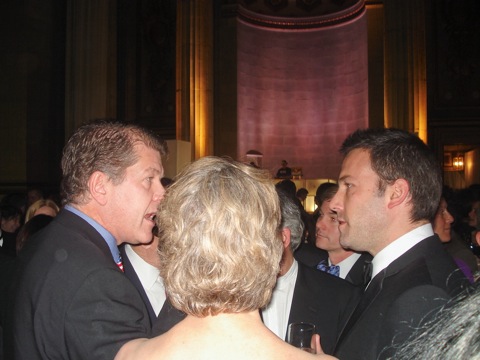 (Steve Clemons and Ben Affleck — and a glimpse of David Corn mostly eclipsed by Susan Eisenhower's hair)
Unlike "Roger" in Michael Moore's Roger and Me, I really like David Corn — and I have no problem seeing him unlike the elusive and never reachable Roger. In fact, I am running into David Corn everywhere, constantly. . .to the point where I feel like one of us is stalking the other.
David Corn is a big time blogger, pundit, and hard-hitting wonk at some of DC's coolest parties. He is the DC Bureau Chief for Mother Jones and used to hold the same position with The Nation. He's a regular on all the MSNBC news shows — particularly Countdown. I attend the same, often glitzy gatherings he does and then get in deep conversations about Gaza, or the need to engage Hamas, or why Scowcroft, Nixon and Hagel would be the foreign policy progressives of our time (David would probably cough when I mentioned Nixon).
David Corn was on a panel with me recently when we both spoke about the media, bipartisanship and foreign policy for Search for Common Ground. He was at the Maureen Dowd party I enjoyed so much and which swept much of the Maureen Dowd-hating universe my way (some of them regular TWN readers). Corn was at the Huffington Post Inaugural bash and at the Google/YouTube Party.
I event sat next to David not too long ago at a Jackson Brown concert at the Warner Theater — complete coincidence.
More recently, we both went to a Center for Democracy in the Americas reception for the opening of the new movie Che with Benecio del Toro — and waited for him, until Benecio stormed out, pissed off that he thought he had been sandbagged with a Washington Times reporter. del Toro did not know that David Corn and I would have been worth having some margaritas with to get the real Che story told right. (By the way, the film is being distributed by Film on Demand…it's four hours long and worth it….so enjoy in your own home).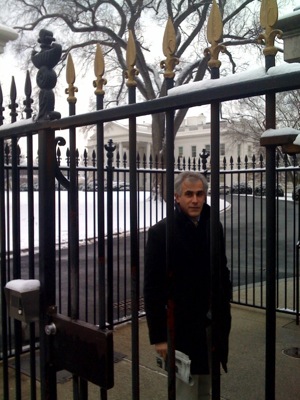 And then a day or so after, I ran into David on the street as I left an interview with Al Arabiya (I was the first American to interview in their DC studio after the network scored its White House interview with Barack Obama Monday evening this week). And then I walked David over to the White House, where he was going to go show his face more often.
And then I saw this note in "The Sleuth" column of The Washington Post identifiying David Corn and myself as the "wonkiest of wonks" in Washington. This actually made me happy.
And then the columnist, Mary Ann Akers, disclosed that we were talking to Ben Affleck for a really long time about a lot of stuff — the economy, Affleck's new documentary on Nick Kristof, the Middle East, and the like. There were about 50 people standing around us, and Susan Eisenhower was in on the discussion too.
I'm not going to comment on exactly what Affleck said — but I want to say that he impressed me with his passion and the level of detailed understanding that he had about the dilemmas we face in the Middle East. He has his views — and he's not shy about broadcasting them, but he also listens to alternative takes. I think Ben Affleck can be an important voice on the need to approach many of the country's foreign policy problems without the kind of biases we have had before.
And though I'm surprised that I'm saying this, I hope that Affleck finds a way to continue to engage DC on this foreign policy stuff. He likes Obama, knows Rahm Emanuel well. He has channels and needs to be careful of mixing industries and hurting his brand — but I can attest to the fact that his head was clearly packed with the right detail, logic, and context to make very reasoned, balanced arguments on the Middle East — way better than the standard fare I hear from seasoned Middle East peace business practitioners.
The picture above was taken at the Google/YouTube-Leadership Conference on Civil Rights Inaugural Party by one of the many dozens huddled around trying to listen to the 20 minute conversation — and the clip below ran in the Post. I won't comment on the content of what Ben was reported to have said as we said a lot — and this clip makes it sound like a lot of attitude packed into a bumper sticker line — and what Affleck spoke about that night was reasoned, complex and made a lot of sense. I hope that Rahm Emanuel did listen a bit if they were in fact discussing these kinds of foreign policy issues.
From The Sleuth at the Washington Post:
Grande Finale of Inauguralpalooza: God, Gays and Gaza
The fifth and final night of inaugural partying was like a cork popping off a champagne bottle. The inner party animal in thousands of revelers came out.
But this being Washington, there was just as much energy put into celebrating as there was debating what Barack Obama will do now that he's president – namely about the Middle East and the economy.
At the Google party, the hot ticket of the final night, Ben Affleck, who became usual suspect No. 1 on the inauguration party scene, was engaged in rigorous conversation with a few of Washington's wonkiest wonks (including liberal journalist David Corn and Steve Clemons of the New America Foundation).
Affleck was railing about the Israeli invasion of Gaza. And, thanks to his special access, he said he has already registered his concerns with the highest echelons of the Obama administration. He said he gave White House chief of staff Rahm Emanuel an earful about Israel at a private dinner the night before.
It pays to have an agent who is the brother of the new White House chief of staff. Affleck's agent is Ari Emanuel, the model for obnoxious Hollywood super agent Ari Gold in the hit HBO show "Entourage."
Later, Affleck was spotted having an intense chat with Sen. John Kerry (D-Mass.) about the economy.
Real policy talk at DC parties. It can happen.
— Steve Clemons
Continue reading:

Europe's Nabucco Delusion
11 Minute Video Note with Zalmay Khalilzad