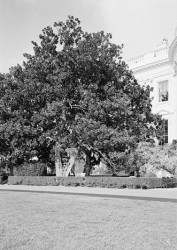 President Obama makes symbolic gesture honoring memory of the many students lost in the tragic Sewol Ferry incident. He gives a high school in Korea a beautiful Magnolia tree from the South Lawn of the White House where President Andrew Jackson planted a tree in memory of his wife, Rachel, who died two weeks after.
This from New York Times White House correspondent Mark Landler's pool report:
In memory of the hundreds of students and teachers who lost their lives on the Sewol Ferry on April 16, 2014, a beautiful Magnolia tree from the South Lawn of the White House is being presented to the Danwon High School, where the majority of students studied. Magnolia trees have adorned the White House lawn since the mid-1800's, when President Andrew Jackson planted a Magnolia sprout from his home in honor of his late wife, Rachel.

The "Jackson Magnolia" has held sentimental value to many presidents throughout the years, and from 1928 to 1988 the reverse side of the twenty dollar bill showed an image of the Jackson Magnolia standing alone just southwest of the White House. This tree symbolizes the deep sympathy that the American people have for the families and loved ones of those who perished in this tragedy. U.S. Protocol officers presented the tree to Protocol officers from the Republic of Korea.
The stressful task of recovering bodies from the capsized ferry continues, with CNN reporting this morning that they have just "discovered the bodies of 48 girls wearing life vests in a cabin with a capacity of 30."
Continue reading:

Guest Note: If the Two-State Solution Fails?
Escalating Tension in Ukraine