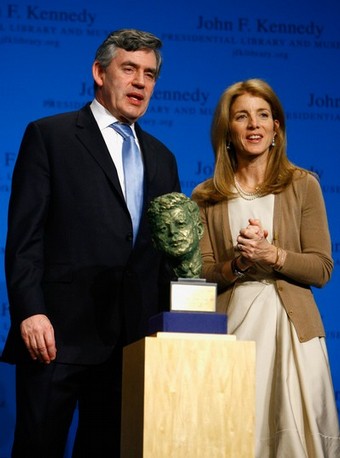 (UK Prime Minister Gordon Brown receiving bust of John F. Kennedy from Caroline Kennedy)
Caroline Kennedy is having a rough time convincing fellow New York-based Dems that she's good for them. If she really, really wants to be in the rough and tough of hard scrabble politics — and show us all what she is made of — I wish she had decided to enter the political fray via election rather than appointment.
George W. Bush and Richard Cheney abused this democracy, built an imperial presidency, emasculated Congress, launched an illicit war, spied in massive proportions on American citizens, authorized torture as a tool in interrogations. They ruined what "democracy" means in the eyes of many American citizens — but also for many around the world who want to knock back their totalitarian governments and achieve some form of real democracy and self-determination.
To succeed the Bush era with a high profile appointment of the untested, iconic Caroline Kennedy does not bolster the Democratic Party's message that democracy at home needs to be rebuilt and revitalized.
Caroline Kennedy's first efforts to sell herself to New Yorkers — but also to make herself look like a compelling choice other than having a good "brand name" to Americans at large — has not gone well.
Barack Obama should stop this grilling and torment that is being prepared for Kennedy and all who helped push her candidacy for "appointment" by offering Kennedy the Court of St. James, the U.S. Ambassadorship to Great Britain.
Kennedy has an outstanding record of public service to those in need, and she is savvy about the who's who of the political world. In fact, she's playing the role of Ambassador on behalf of her father's memory and her clan for a long time — while maintaining a tight lid on her private affairs. She's incredibly "ambassadorial" already.
Caroline Kennedy would perform well in London and could help to bolster Obama's relationship with the UK and with Europe more squarely — something that is vital. If she did a superlative job in her role, she might be able to translate that into some kind of compelling campaign to later "run" for public office.
But seriously, Obama should make Caroline Kennedy his ambassador to Great Britain.
There have been rumors that outgoing Senator Chuck Hagel has been discussed by some close to Obama for this role in London — but in my view, this would be a waste of Hagel's considerable talents at a macro-level on American foreign policy. Hagel should wait for appointment as Secretary of State or as a top envoy for some form of global negotiations.
Kennedy would be perfect in London.
— Steve Clemons
Continue reading:

Israel Strikes Gaza
MERRY CHRISTMAS!