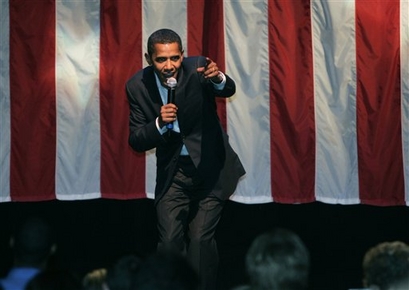 Ronald Reagan thought acting was great prep for the presidency. And recently, Ben Affleck told me that he saw some obvious similarities between DC and Hollywood while here shooting his next film, State of Play.
But Barack Obama and Hillary Clinton are taking "staging" to a new level.

Clinton was caught embellishing about the degree of tension and danger during a Bosnia trip in 1996. She was taped. Confronted with evidence that Bosnia was not flying with bullets the day she arrived, Clinton released a statement saying that she "misspoke".
But there is no 'good tape' of Barack Obama's much-saluted 2002 speech calling the brewing invasion of Iraq a "dumb war". But sound wizards have helped re-create the sense of a crowd applauding to Obama speaking into a loudspeaker, echo and all.
Since there was no original — Obama made his own.
NPR's Don Gonyea found a couple of people who were there in 2002 listening to the speech and as Faulker might have scribbled, people heard the same thing and told it differently.
According to Gonyea's report, event co-organizer Marilyn Katz said "The crowd was pretty much transfixed." On the other hand, US Hispanic Leadership Institute President Juan Andrade Jr. said:
There was nothing magic about it. . .There was nothing about that speech that would have given anybody any sense that he was going places. We were just glad that he was one of those who was willing to step up at a time when very few people seemed to be willing to do that.
Obama is clearly getting better and better at his performances — particularly those that he can stage in sound booths. And it's paying off. After all, he did take this year's Grammy for the taped recording of The Audacity of Hope: Thoughts on Reclaiming the American Dream.
But reading it on my own with out the contrived sound effects, I still think Obama's 2002 anti-Iraq War speech was on target and deserves applause.
But we are in an era when politics has finally, definitely, completely become performance art — and national trust in those who tell their stories will appropriately erode.
— Steve Clemons