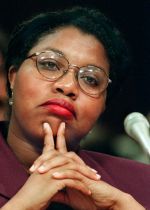 The first edicts that late-in-the-day Hillary Clinton Campaign director Maggie Williams issued to her staff as Patti Solis Doyle was heading out the door were:
1. Be respectful of your fellow staff members — generous in spirit, positive, constructive.
2. Return all phone calls — even if you have to return them at night when you know the other person won't be in. Return every single one.
3. Feel empowered to share your ideas for the campaign. Send them to [me], Howard Wolfson, anyone. We want your ideas and want to hear from you.
Patti Solis Doyle allegedly bred a lot of ill will inside the campaign among staffers. Many Clinton aides talked about how she had a wall erected between herself and the rest of the campaign staff in Iowa. Others who had been around for Hillary Clinton's Senate campaign talked about how Patti Solis Doyle had shut down the campaign office for two full days in order to watch the collected DVD set of "Grey's Anatomy." I'm not kidding.

So, point number one on Maggie Williams' list was a good place to start for the morale-challenged Clinton campaign crowd.
Point three is also interesting — and I've witnessed frequently how numerous Clinton staffers absorb ideas for the campaign, chew on them a bit, and then send them up the ladder over their blackberries to higher realms in the organization — and they get responses back. Very impressive — and apparently a change from the pre-Maggie Williams era.
But the second is funny. I told a friend on the Clinton campaign that I had been trying to work on a story that would place the issue of superdelegates in a light that was different than the press at that time had given the subject.
There is a strong current of opinion in Democrat circles that superdelegates should vote the way of their states, or their districts — depending on one's level of analysis and also to some degree, on whether the calculation would help Obama or Clinton.
I tend to think superdelegate rules should not be tampered with in any way in this race. They should vote the way they will vote — and their purpose is to serve both as party stabilizers who can see beyond a moment in time at the ballot box and as institutional memory for the party-building activities of various candidates.
I wanted to compare what Barack Obama had done by way of party building. How many fundraisers had he done for the DNC or the DSCC or the DCCC. What had his PAC given to other candidates.
Likewise, what was Hillary Clinton's "party-building" profile? Had she helped support other candidates in key races in 2002, 2004 and 2006? How much money could she claim she had helped raise for the Democratic National Committee, and what had her PAC done.
I'm certain that the story would not have been definitive in telling the story of superdelegates — but I think it would have added some depth and context to the debate about why superdelegates may exist within the party primary structure.
I decided to start with the Clinton campaign and had hoped to get some data, or even a roster of vignettes of Hillary Clinton's party-building activities. And then I hoped to get similar material from Obama's team.
I have to say that in Hillary's case, I placed more than a dozen calls to various members of her team — all good people actually — and some very high on the ladder, including Maggie Williams.
But not one of the calls was returned. So much for that story.
But a friend who works on the Clinton camp — who adores Maggie Williams — nonetheless got a kick out of the fact that she, Howard Wolfson, and others I don't want to name were breaking their own rules.
To be honest, I don't return every call either — don't have the time and too many balls in the air. But I'm not running for anything, not even dog-catcher.
— Steve Clemons