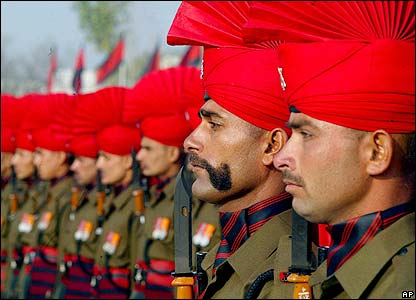 Indian border troops in Kashmir.
In his remarks yesterday at the launch of the AfPak Channel, the new joint project between the New America Foundation and Foreign Policy magazine, New America President Steve Coll defined US interests in Afghanistan and Pakistan as going beyond the standard aim of disrupting, dismantling and defeating Al Qaeda.
Coll stated that our other paramount interest is to ensure "a stable, modernizing South Asia, particularly including Pakistan, but not limited to Pakistan, that is not in danger of being captured by Islamist militants, the Taliban, or others. And the development of a sustainable, self-governing, modernizing, pluralistic, constitutionally-governed region is the interest, the overriding US national security interest that takes you to the problem of the Taliban."
However, the Obama administration's metrics for measuring success in Pakistan and Afghanistan ignore a large part of the puzzle in South Asia. Objective 2c calls for involving the international community in guaranteeing Pakistan's stability. To evaluate this involvement, the administration will measure "[s]upport from allies, international organizations, and other key players, including China, Turkey, Saudi Arabia, and UAE." These countries can all help secure Pakistan's future. But the metrics fail to acknowledge the tremendous impact on South Asia of the mutual fear and distrust that has animated relations between India and Pakistan since their founding.
Sameer Lalwani, a PhD student at MIT and Research Fellow at the New America Foundation, has just released a richly-detailed analysis of Pakistan's counterinsurgency challenges and capabilities, one that illuminates the many challenges to and opportunities faced by Pakistan in their fight against the Taliban and Al Qaeda, holed up in the tribal west. It is worth a thorough read for anyone with AfPak issues on the brain.

One conclusion Lalwani draws is that it would be nearly impossible for Pakistan to conduct a true counterinsurgency in the tribal areas without a serious reorientation of its military posture towards India. He notes that for Pakistan to have the appropriate number of troops in the west to fight according to classic counterinsurgency theory, it will need to redeploy up to 359,000 troops from the Indian border, something Lalwani says is unlikely to happen owing to Pakistani military strategy, training, and persistent fears of Indian attack.
He writes:
Without substantial change in its threat perceptions of the Taliban or India or new inducements from the United States and NATO, the Pakistani military probably will take a default position on the tribal areas, clearing out extremist elements of the Taliban using current tactics while seeking to cut deals with more moderate elements in the hope that those elements could take control…While this approach might stem attacks on Pakistan, it would not end cross-border raids or support of the Taliban's Afghanistan insurgency.
On the one hand, this kind of radical change in strategic policy seems difficult. India has resisted any outside efforts to resolve the disputed region of Kashmir, and an Indian lobbying push kept Richard Holbrooke from dealing with India as part of a broader AfPak strategy. Many question the commitment of the Pakistani military as well, and particularly Pakistan's powerful intelligence agency, the ISI, to fighting many of the same militants they have supported for years in Afghanistan and Kashmir. And it will be challenging to break 60 years of Pakistani military, parliamentary and civilian conviction that India poses the greatest existential threat to Pakistan, as pointed out by Steve Coll in The New Yorker this past March.
Yet while Pakistan has in the past maintained a kind of on again, off again relationship with militants, there are signs that this can change. Pakistan's offensive in the Swat Valley and continued quiet support for drone attacks shows that they take the threat from the Taliban and Al Qaeda far more seriously than they have in the past. As Lalwani points out, Pakistan has shifted 55,000 troops from the Indian border, and Pakistani police yesterday re-arrested Hafiz Saeed, one of the founders of the banned Lashkar-e-Taiba, the group blamed by India for the November 2008 Mumbai terrorist attacks. And the Indian military did not mobilize after Mumbai, as they did after the 2001 Lashkar-e-Taiba attack on India's parliament, a move that almost plunged both sides into war.
These are baby steps, and easing tension on the Line of Control separating the two countries will not automatically bring peace to the region or ensure security and stability along the Durand Line. But we cannot simply ignore India's relationship with Pakistan; for a stable and secure South Asia from Kabul to Delhi and beyond, there must first be engagement between Delhi and Islamabad.
–Andrew Lebovich