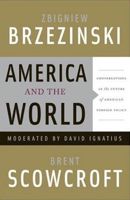 Hot damn! I am very excited today.
A book, America and the World: Conversations on the Future of American Foreign Policy that I was very involved in helping to hatch made it to Michiko Kakutani's top 10 list for books from 2008.
And to top off a great day, my colleague and friend Steve Coll's The Bin Ladens: An Arabian Family in the American Century also made the cut.
Some of you have previously read about my enthusiasm for the writing and thinking of Zbigniew Brzezinski, Brent Scowcroft, and David Ignatius. I recognize that these are not unknown voices — and there are some whose enthusiasm for their views is something that they don't have too much problem controlling. I am very into the work of all three, however.

But given the dominance of the neoconservative establishment over the foreign policy ecosystem in Washington, D.C., I felt it was important to push back — to link up other institutions in Washington and other like-minded policy intellectuals. It was important to encourage a new generation of progressive realists and to take back "territory" in the DC establishment from those who had run the nation on such a reckless course.
I felt that the two most solid standouts in America's national security establishment — who had reached such pinnacles in their careers that they would not say things just to curry favor with whoever held the guest list for White House state dinners — were Zbigniew Brzezinski and Brent Scowcroft — one a life long Democrat and the other a life long Republican. Neither of these men I felt could be heckled into a perspective designed to please some constituency.
On the 6th of January 2005, I invited both to speak to the first of my foreign policy salon meetings that have gained some notoriety.
Scowcroft said that the meetings could be on the record but that I could only invite 35 people. I lived with those rules and got the "right" 35 people there. Brzezinski and Scowcroft gave the single best set of presentations at that time outlining the tremendously eroded national security position of the United States. Their comments — which were public — were featured in just about every major publication in the country and comments made by both dominated the Sunday morning talk shows — all of them — the weekend following their New America Foundation salon meeting which I chaired.
As we got deeper into the second term of the Bush administration, it seemed important to me to help bring the views of these two giants to a much broader audience — not to necessarily castigate the administration for its mistakes but rather to outline what kind of tough, disciplined strategic choices the United States needed to make to regain some of its leverage in world affairs.
William Frucht, then executive editor of Basic Books and now executive editor at Yale University Press, approached me about ideas for our joint Basic Books/New America Foundation imprint. Frucht is a great editor — and I told him that I couldn't think of anything more important for the national security debates that the country was going to go through than to hear something compelling from Zbig Brzezinski and Brent Scowcroft.
I told Frucht that DC was a jaded town — full of people who thought that they had seen everything, done everything — but there were some high drama opportunities that no one had helped to engineer. Brzezinski and Scowcroft were not unknowns. They had said many of the things that they had said before in other circumstances — but few had heard these two strategic masters bounce off of each other in a tightly managed way, and few had heard them argue when they didn't agree. I felt that the two of them together would represent a sum far greater than the already great parts.
I was then given the task of trying to talk them into co-writing a book. Both said NO immediately despite my best efforts to move this forward. Neither thought that they could hammer their views together in a single narrative — and such a product would have had the high points and differences cut out.
Instead, after several months of trying and failing to get them to reconsider, we collectively came to the conclusion that a moderated discussion about America and the world — and future strategic choices — designed to be read by an incoming administration would be a potentially captivating approach that also allowed Scowcroft and Brzezinski to not have to compromise their views in a single narrative. Such a format would also allow the public to see how two informed strategists could disagree with one another and remain civil and constructively engaged.
To moderate the discussion, one name fit as far as I was concerned. I called David Ignatius of the Washington Post, and Ignatius said "YES, I'll do it" in 2 seconds. He asked no questions after I gave him the pitch — and just said yes. Ignatius was absolutely the right choice — someone who knew the foreign policy, intelligence, economic, and national security policy environments inside and out and approached complex policy questions without ideology and without putting his ego first.
I really have to thank David Ignatius profusely. He engineered a discussion with Brzezinski and Scowcroft that brought out the best in them — teasing out how their views converged and diverged — and made this discussion relevant to tomorrow's challenges, not just the past.
When the book came out, Senators John Kerry and Chuck Hagel and Teresa Heinz Kerry hosted the coming out book party at Senator and Mrs. Kerry's home under the auspices of the American Security Project, and people who got a quick sampling of the exchange between Brzezinski and Scowcroft that night — moderated by David Ignatius in person — knew that this would be an important book.
Michiko Kakutani gave America and the World: Conversations on the Future of American Foreign Policy an outstanding review, and just made it part of her top 10 list for 2008, and given the influence that both Brzezinski and Scowcroft are alleged to have on the Obama team, the book is moving nicely in sales.
For those interested, this is a video (beautifully edited) of a discussion I helped introduce at the Washington National Cathedral with more than 1,500 attendees with Scowcroft, Brzezinski and Ignatius — with extra comments as well from the Bishop of Botswana, a moving Chinese journalist now at Harvard, Karim Sadjadpour of the Carnegie Endowment for International Peace, and the New York Times' Thomas Friedman.
Here is another video clip from a New America Foundation event in which I moderated Dr. Brzezinski and General Scowcroft — whom I affectionately call the "Walter Matthau and Jack Lemmon of U.S. foreign policy":

This book is vital not just because it lays out an approach to important, tough strategic choices in today's challenging foreign policy environment — but because it makes a strong case for strong, principled, enlightened American engagement in the world — a theme I have been promoting for a long time much inspired by the work of Priscilla Lewis, P.J. Simmons and Stephen Heintz of the Rockefeller Brothers Fund in their "US in the World" project.
I realize that this is a longish note about the background of this book, but it's one thing to know that something might be a "hit" and another to actually pull all of the pieces together and have everyone do his and her part so that a great idea becomes a great intellectual and policy product — and which has the kind of impact on public consciousness one hopes for.
So, many thanks to Bill Frucht who is now with Yale University Press. And thanks to John Sherer, Michele Jacob, and David Steinberger of Basic Books. Thanks also to Frank Pearl of the Perseus Group LLC who showed great personal interest in this project.
And thanks so much to Zbigniew Brzezinski and his long-term former assistant, Candice Wessling, as well as his son Mark Brzezinski (who gave this idea some back room nudges) as well as his new staff.
Thanks equally to General Brent Scowcroft and his staff including Eric Melby, Kevin Nealer, Virginia Mulberger, Dan Poneman, and Gail Turner.
And very special thanks to David Ignatius — who helped this book achieve an important relevance today that few could have engineered.
And lastly, thanks to Rita Hauser, Chairman of my Director's Council, and to other financial supporters of the American Strategy Program at the New America Foundation whose support helped make this book financially viable.
And if you have not bought the book, you need to. It's great. Click here.
More soon.
— Steve Clemons