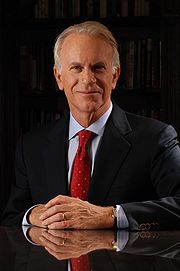 Monday and Tuesday this next week, I have three events I am chairing at the New America Foundation — and all of them are superb. If you are in the Washington, DC area, you are welcome to join us. I'll hyperlink the website for each of the specific events so that you can RSVP directly to our event staff.
The first features Under Secretary of State for Public Diplomacy James K. Glassman who will be speaking on the subject, "Public Diplomacy 2.0."
Glassman will be sharing his thoughts on how new technology, including social networking, is changing the face of public diplomacy – specifically, how new technology fits Glassman's new approach to engaging with foreign audiences by convening and facilitating rather than preaching and directing.
Glassman recently spoke at the New America Foundation after assuming his responsibilities (his talk can be viewed here) and made the sensible but not heard enough statement that a chief goal of American public diplomacy should not be trying to get the world to love America — but rather to help those with grievances and those who want to protest their situation to find non-violent ways to do so.
That was a lot more sensible than much of what I heard from either Glassman's predecessor, Karen Hughes, or from the Cheney wing of the Bush White House.
Glassman's event will stream live at The Washington Note from 10:00 am til 11:30 am EST on Monday, 1 December.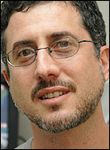 NEXT, on Tuesday, 2 December, from 12:15 pm til 1:45 pm EST, I will be hosting Pulitzer-prize winning Washington Post correspondent Barton Gellman on his new book, Angler: The Cheney Vice Presidency, which I reviewed here.
This riveting book is essential for those who want to understand how Vice President Cheney and his chief legal aide and alter-ego, David Addington, sculpted the key memorable, disturbing features of the George W. Bush administration. This event will also STREAM LIVE at The Washington Note.
Gellman's book, I should add, just appeared on the New York Times Notable Books of the Year list.


Helene Cooper's House at Sugar Beach: In Search of a Lost African Childhood also ranked high on the Times Notable books list this year — and has received rave reviews including from this writer.
Cooper is the newly appointed White House correspondent for the New York Times after previously serving as Diplomatic correspondent covering the State Department.
Helene Cooper will be speaking from 6:30 pm til 8:00 pm EST at an evening program at the New America Foundation on Tuesday, December 2nd. Her event will also stream live here at The Washington Note.
Here is a segment of my review of Helene Cooper's memoir:
Helene Cooper's childhood was best punctuated by the memories of her sisters — one related by blood, Marlene, and the other adopted, Eunice — in a 22 room house at Sugar Beach outside of Monrovia, Liberia.
Cooper's family was crowded with big personalities. Her uncle was foreign minister and was executed during the downfall of the Liberian government. Just about everyone in the government was a relative, or associated with relatives of her clan. Helene and her sisters watched her uncle and other relatives and friends die at the hand of executioners on television.
Her family connections on her father's and mother's side of the family were the equivalent of a hybrid of the Rockefellers and Jeffersons with a mix of the Andrew Jackson clan. This selection which references the "Cooper compound" gives one a flavor of where her family sat in Liberia's pecking order. Helene and her sister, Marlene, were spoiled children — privileged would be an understatement given the less than miserable circumstances that so many others in Liberia suffered through each day. Eunice was adopted to be a playmate of Helene and Marlene — and had her own family elsewhere — but was taken in by the Cooper household as a real member of the family, a custom of sorts that Cooper's parents upgraded by making sure that their many servants never treated Eunice any different than the other two.
Then one day, the President of Liberia — a man who had grown distant from the on the ground realities of those living in his country — tried to raise the tax on rice. While many other factors interceded that helped a relatively stable nation disintegrate into run amok anarchy, the spark was this increase in the burden that those with the least in Liberian society had to pay. Ethnic and tribal divisions were already tense — as they had been for decades. It didn't take much to finally get revolution to ignite. Such surcharges on basic foodstuffs have been significant destablizers in Kenya, Congo, Tanzania, and elsewhere.
But many died in the revolution that ensued. And social norms and habits — at least those generated from the dominance of many by a privileged sect at the top — came undone.
Helene Cooper tells the story of how her mother protected Eunice, Marlene and Helene from a marauding gang of US military-trained thugs loyal to Samuel Doe in the overthrow of the rice-tax raising democratically elected and subsequently assassinated President William Tolbert. The Cooper children were eyed by the renegade Liberian military at their home at Sugar Beach — and Helene's mother negotiated with the soldiers to allow them to gang rape her while the children waited upstairs. Eunice, the adopted sister and daughter who had come from the roughest of life circumstances into privilege, calmed the other two and kept them from racing to their mother's aid.
This is a very moving, thoughtful book. We have titled Cooper's talk "When Nations and Lives Come Unglued."
Join us live on line when it is streaming – or join us Tuesday evening at the New America Foundation.
— Steve Clemons