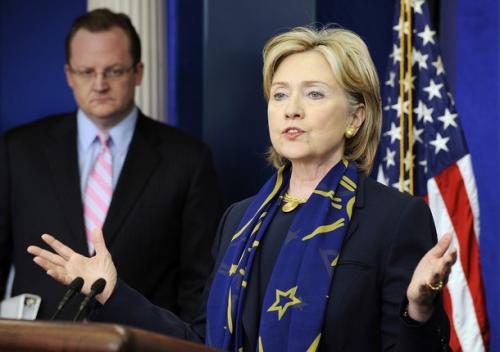 Glenn Kessler has written an excellent front page profile of Secretary of State Hillary Clinton titled "A Team Player Who Stands Apart" in today's Washington Post.
I generally agree with Kessler that Hillary Clinton has shown that she can be an effective team player in Obama's cabinet — but I'm not sure I am on the same page as Kessler that she is out of the picture on Afghanistan, Iran, and Israel/Palestine.
Kessler writes:
[Clinton] has been prone to making pronouncements and blunt comments that have put her ahead of, or out of sync with, the rest of the administration. She maintains a robust public persona — her lengthy overseas trips are filled with town hall meetings and softball television interviews — but she is largely invisible on the big issues that dominate the foreign policy agenda, including the war in Afghanistan, the attempt to engage Iran and efforts to address the Israeli-Palestinian conflict.
The very nature of point person envoys — which we have in Richard Holbrooke, George Mitchell, and Dennis Ross — obscures the background role that other administration officials are playing in the crafting of policy.
Hillary Clinton is regularly briefed on all of these policy areas — and contributes at the Principals meeting to the policy discussion. The envoys brief Clinton as does Deputy Secretary of State for Policy James Steinberg – who is constantly coordinating and working well with the National Security Council's Deputy Tom Donilon.
Earlier this week, Hillary Clinton hosted a small dinner of Iran experts organized by Policy Planning Staff Director Anne-Marie Slaughter. Richard Holbrooke, Dennis Ross, and Under Secretary of State for Political Affairs Bill Burns participated in the dinner with a number of outside experts who were queried by Clinton and others in what was essentially a roundtable briefing for the Secretary. Slaughter has done a number of such briefing dinners, including one on Afghanistan/Pakistan.
So while Glenn Kessler is right that Clinton's hand may not be as visible in these hot policy areas, her hand is definitely in the mix of those influencing policy and framing the challenges in discussions with President Obama.
Also, with regards to Israel/Palestine, I was pleased by Clinton's statement last May, which Kessler reports:
In an interview with al-Jazeera in May, Clinton said about Israel: "We want to see a stop to settlement construction, additions, natural growth — any kind of settlement activity." Some experts have questioned whether the position should have remained private, since it led to such a breach in relations with Israel.
Whether the statement should have been kept private or stated in public, Clinton helped define one of the key stress points between the United States and Israel about the upcoming negotiations process — and rather than having the issue of settlements lurk in the background, her candor put it out bluntly and boldly. Few would have predicted that Hillary Clinton would have done this given the perception that she tilted more toward Israel interests and less to the Arab region while serving as a New York Senator.
And on this page, there are highlighted short audio clips from Glenn Kessler's interview with Clinton in which she says that while not being ready to announce where we have ended up in efforts to relaunch Israel-Palestine talks, she predicts that "we will end up in a place where no Israeli government has gone before." (here is full transcript)
That peek at what may be coming next on Israel/Palestine from Clinton is heartening and shows an awareness of the policy issue — and in my view active policy involvement as well.
— Steve Clemons