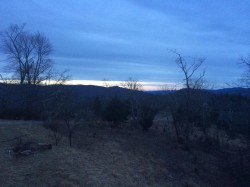 2014 is upon us, and I'm using this semicolon between years to rev up The Washington Note again.
As editor in chief of The Atlantic's events division as well as Washington Editor at Large of The Atlantic, I just have not had the time I had hoped to offer the regular commentary here I would have liked.  My longer thought pieces went to The Atlantic itself — but it's clear to me that I have a lot to say about things that just don't fit the various channels The Atlantic has available.  So, I'll publish in both places, as well as occasionally in Quartz, Defense One, and National Journal.
But everything is heating up again — the Middle East peace process, China, Iran, North Korea, even Japan and its Yasukuni-hugging Prime Minister.
I'll be building up this site and look forward to your comments and participation — which I will find some way to moderate, or make a good attempt at doing so. The pic above was the view from my window this morning in Lost River, West Virginia — the first sunrise of 2014.
I've always enjoyed Andrew Sullivan's "The View from Your Window" and always tip my hat to him when I post my or other's pics. A happy 2014 to all, and look forward to engaging folks on the consequential issues of the day here at The Washington Note.
— Steve Clemons