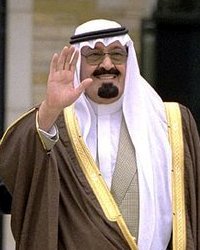 I had a three and a half hour long dinner with a Saudi notable in Jeddah the week before last. I asked him whether the liberalization I felt I was witnessing in various academic, NGO, and government arenas in Riyadh was a function of the King's own unique vision for the country or whether the King, or the "Custodian of the Two Holy Mosques" as he is formally referred to, was triangulating between the contending forces of conservatives and progressives in his country, with the trend moving in the progressive direction.
My host said that it was a bit of both — and more. He said, one needs to listen to the King's own words, to hear him in Arabic and to answer the question not through the filter of handlers and public relations personnel but to the off the cuff remarks the King often made but which Westerners rarely if ever listened to. But my host didn't answer my question about the King's relationship to liberalization.
By numerous accounts, the King is a very blunt person.

I didn't meet him during my recent trip, but I met several people who regularly interacted with the King and then talked with an individual who had some insights into the King's off the cuff remark-making. While I don't yet have a good roster of these statements my Jeddah dinner host recommended I investigate, I have come by a few lines from King Abdullah now and have the sense that he is consciously unleashing some liberalization forces in Saudi Arabia that will be practically impossible for his successors to bottle up.
My dinner companion replied that many Americans and Europeans looked for quick answers in Saudi Arabia. He felt they invested little time, according to him, and looked for validation of cliches and stereotypes rather than sorting out the currents and counter-currents of a complex, evolving society.
I agreed that I would not report on the broad substance of our dinner and would not divulge my host's identity — and in return, I was treated to a very thorough and deep discussion about what was happening inside Saudi Arabia.
Thus, I'm not going to offer a quick snapshot of my experiences and thinking about my Saudi trip. Instead, I'm going to blog a series of observations and am going to try to avoid being captured either by the anti-Saudi human rights crowd or those who want to turn a blind eye to problems inside Saudi Arabia.
As someone primarily focused on the deteriorating state of America's national security portfolio and position and the consequences of that on our allies, like Saudi Arabia, I don't tend to elevate the internal arrangements inside other countries as the principal lens through which I judge the strength, intentions, and direction of another state. But at the same time, I want to have some understanding of the nuts and bolts of Saudi society — and why it has the internal organization it does.
My colleague and friend, Nicholas Schmidle, has recently tried to provide some quick trip snapshot essays for Slate — and with all due respect to Schmidle who writes richly in his travelogue, I found my own reactions to Saudi trends to be quite different.
In order to ward off accusations that observers have somehow seen only what Saudi handlers wanted them to see, some writers check off the stereotypes about the morals police, mistreatment of women, the harsher edge of sharia law, and the like. I feel that Nick Schmidle engages in some of this and feels the need to quickly tell "novelty stories" rather than provide a broader survey. Schmidle is my colleague — and writing the snapshot piece he did is something he is celebrated for doing in this country, but I think it under reports the deeper trends and realities in Saudi Arabia today.
As I begin this set of comments and observations, I also want to be clear that I don't purport to be an expert on Saudi Arabia.
My bias that I bring to this topic is that I believe that the Kingdom of Saudi Arabia is a vital ally of the United States in the Middle East — and that the U.S. as a whole has poorly served that relationship and alliance.
Some of our own policies — particularly the extra-legal handling of combat detainees in Guantanamo, Abu Ghraib, and Bagram — have been factors in radicalizing some Saudi youth — but what is far more negatively consequential has been the border harassment at airports of Saudi students and academics who wanted to train and learn inside the U.S. I'll write more on both the visa and airport entry horror stories later — but my fundamental point is that Saudi Arabia is a key player in the Middle East, in Israel/Palestine issues, in oil and energy politics, in Iraq, in managing Iran, and in the entire Muslim world.
I feel that we have allowed this vital relationship to be under served by elites on both sides who felt that they didn't need to care about broad public awareness of the importance of that relationship on both sides — and by writing in the US about the Saudi system that reflected a high-handed moralism on the part of the author that emphasized some of the most significant divergences between American and Saudi societies over some of the points of convergence and common interest.
I have never been on a country trip in which the experiences I had ran at such odds with general preconceived notions I held of the place I was visiting. But more on that later.
— Steve Clemons