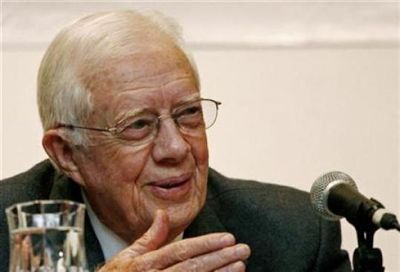 The Washington Note is starting a new feature called "Short Takes" — small, semi-daily snippets of items our team finds interesting combined with occasional gossip and insider DC intrigue.
CARTER'S PROGRESS?
Jimmy Carter's entrepreneurship has moved some Hamas leaders to offer Israel a ten-year truce. Hamas has offered such a deal before, and Israel rejected it with the Likud and political right arguing that such a truce would only provide time for the Muslim fundamentalist movement to further dig in and establish a base for more virulent rejectionism of Israel. Israelis — to the tune of 64% in recent polls — want a ceasefire with Hamas and want the Palestinians to resolve their internal tension and do a credible peace deal.

Carter is a long way from success, not withstanding the opposition to his work from Barack Obama, Hillary Clinton, and John McCain. But Carter has done something important in his meeting with the Hamas leadership. He has shown his ability to go where many other American leaders — including Brent Scowcroft, Zbigniew Brzezinski, Thomas Pickering, Carla Hills, Nancy Kassebaum Baker, Theodore Sorensen, Paul Volcker, Eric Shinseki — have advocated going but have not had the ability to do. And Carter is also showing that the recalcitrant voices in the State Department, White House, and hopeful future candidates can be decisively ignored — and some progress still achieved.
VOTING IRREGULARITIES IN PHILLY?
Word has reached TWN that entrenched Democratic political machines in Philadelphia may have held discussions in recent days about what could be done to throw some speed bumps into the voting process for heavily African-American communities.

Misplacing voting roles, not assigning enough poll workers, on-the-fritz voting machines and other tools were possibly discussed as a way to help generate long lines for mostly African-American voters and to discourage them from voting. Incredible if true. My source — unconfirmed — suggested that this discussion was among those loyal to Philadelphia's mayor and thus hoping to help the Hillary Clinton campaign.
STREISAND PULLS OUT OF ISRAEL GIG
Well. . .George W. Bush, Google co-founder Sergey Brin are still on the star-studded party list that Israel President Shimon Peres has assembled for the May 13 festivities celebrating Israel's 60th anniversary. But Barbra Streisand won't be singing.

She gave no reason for her cancellation — but those who know her tell me that she's disturbed by Israel's complicity in the worsening problems with Gaza and with the failure to move towards some kind of a credible Palestinian state solution. Ultimately, if Israel doesn't move towards a two-state arrangement, the 60-year old state "will either lose its 'Jewish character' or will cease to be a democracy" — as directly stated to me by Israel Deputy Prime Minister Haim Ramon.
KISSINGER HEARTS McCAIN BIG TIME
Last night at the pretty spectacular mega-hundred person attended Atlantic Council annual gala dinner at the Ritz Carlton which punctuated the revival of what was a nearly dead organization, Spanish newspaper El Mundo Washington Bureau Chief Pablo Pardo had the chance to talk to Henry Kissinger who was on his way out of the ballroom. Pardo queried Kissinger on what political issues he felt were the most important in the current presidential campaign. Kissinger gruffly said that he wasn't going to comment on that kind of thing. And then Kissinger said, "I support John McCain." Pablo Pardo responded back, "But why exactly do you support Senator McCain?"

Kissinger's reply, "Because I have known him for 20 years." No policy parameters surfaced.

Clearly, Kissinger the realist has become a sentimentalist and has discovered 'unconditional love affection'.
— Steve Clemons
Continue reading:

Joe Garcia's Slick Slam of the Diaz-Balart Brothers
Demystifying Saudi Arabia