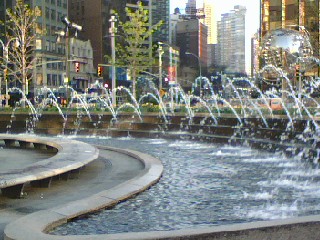 I've been blogging and reading this morning at Columbus Circle in New York — and a TWN reader said hi to me at 7 a.m. there. It's become a strange thing to run into people in parks, on the street, on planes who read this blog. I love it, but it's still unusual.
I keep wondering whether the next person who says hello will be POA.
I saw Candide at the New York City Opera last night. Fun, but not what I expected.
The performances of Richard Kind as Voltaire/Dr. Pangloss, Lauren Worsham as Cunegonde, and Daniel Reichard as Candide were fantastic. The voice work that Worsham and Reichard managed was the most memorable thing for me in this weird musical which is supposed to be an assault on naive hope.
Given my own tilt towards realism generally, I thought I'd gravitate to the show's themes, but Leonard Bernstein who apparently fought with Lillian Hellman and others during a tug-of-war creative process that birthed Candide prevailed in creating a too frilly, unsubtle satire of optimism. I would have done it differently and would have made allusions to today's great political challenge: semi-realist experience that produce the wrong decisions vs. powerful currents of hope and an alternative vision that could be all talk and no walk.

There were two hooded victims who were, in the production, manhandled and ultimately done away with. This was an effort to remind of Abu Ghraib in the context of the Spanish Inquisition. I don't think it worked.
I really wanted to get up there and re-do this production myself — but I get the sense from reading about it in the playbook that lots of far more creative people felt that same way in many stages of this show's development.
But while the production itself was flawed, the performances and singing were excellent.
I love New York. It's Hollywood and DC sort of merged. Walking on the street yesterday, I ran into my friends Jennifer Chun and her sister Angela Chun — who together are one of the great violin duos. In case you are interested, the latest CD of Jennifer and Angela Chun is here, and that's what I'm listening to in my GMC Sonoma Truck right now.
I also saw Jack Wetherall yesterday on the street. Didn't speak to him — but he's an actor I admire.
I rarely comment on culture given my general cultural illiteracy — but sitting around all of these fountains moved me to do it — as well as my frustration with Leonard Bernstein, who made an acquaintance of mine happy for life for kissing him at a party long ago at Harvard, but who was perhaps the wrong guy to interpret the nuances of realism.
— Steve Clemons
Continue reading:

Demystifying Saudi Arabia
Open Thread: And Then There Were Three. . .