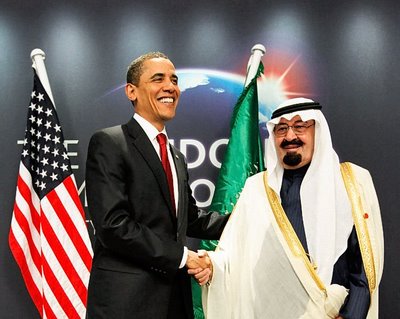 On Monday, 27 April, I will be co-chairing a major national policy forum on US-Saudi economic and strategic perspectives on the Middle East and global economic and security system.
We have quite a line-up which I'll share below. C-Span will be airing parts of the conference, but the entire program will run live here on The Washington Note — and video will be posted here for later viewing.
This weekend, Secretary of State Hillary Clinton is in Israel and Iraq. There are as yet unsubstantiated rumors that she may drop in on some other countries as well — but we do know that State Department Special Advisor for The Gulf and Southwest Asia Dennis Ross will be in Saudi Arabia on Monday and Presidential special envoy for the Middle East George Mitchell will be in Saudi Arabia this next week as well. All of this is happening while we are holding this US-Saudi policy forum in Washington, DC.
Ambassador of Saudi Arabia to the United States Adel Al-Jubeir has been called back to the Saudi Kingdom yesterday to advise the King in the meeting with Dennis Ross and other as yet unannounced officials.
Other members of the Obama national security team are traveling as well — to points not announced, but my guess is that we have a large chunk of our national security and diplomatic representatives focused on affairs in the region this weekend and next week.
So, big stuff is up.
A source in the White House has shared with me that there is a lot underway right now with Saudi Arabia — and things are "sensitive." I have no idea what is sensitive — but I do know that the US-Saudi relationship lies at the nexus of many key issues in the region — from the solvency of King Abdullah's Arab Peace Initiative given trends in Israel and Palestine, to potential opportunities with Syria, to dealing with Iran's transnational meddling in the affairs inside other countries in the region, to Iraq's stability, and perhaps most vital at the moment — to figuring out a stabilization scheme for Pakistan and Afghanistan, where Saudi Arabia has significant influence.
I think Secretary of State Clinton and members of the Obama administration's diplomatic team are working hard on all of these policy fronts in the region. But that said, I believe that the administration is still not as serious as it should be or could be in giving the US-Saudi relationship the attention and respect it deserves — inside Washington, DC.
Because of cultural dissimilarities and almost a purposeful "remoteness" that has become institutionalized in the US-Saudi relationship, except when behind closed doors — or perhaps in the privacy of the oval office or big estates here or there, or in Riyadh — the US-Saudi relationship remains "overly exotic" — and is not acted out in public view to the degree it should be.
The conference that follows below will hopefully become a starting point for a more regular, public exchange of views on the key strategic and economic challenges that face the United States, Saudi Arabia, and the broader Middle East and international system.
Whether many Americans want to acknowledge it or not, the fact is that the US-Saudi relationship is vital to America's geostrategic and geoeconomic interests today — and like all diplomatic frameworks between key geostrategic players, this relationship as seen from both the American and the Saudi sides has warts and shortcomings. Nonetheless, it is not healthy to allow a vital relationship to be perceived and discussed through only very narrow lenses.
What we have coming up on Monday is pretty significant in my view, and I am grateful to officials in the Obama administration and in the Saudi Kingdom — as well as other private sector speakers — for supporting the kind of open encounter we are promoting in this meeting.
Everyone speaking at this forum — which has been organized jointly by the New America Foundation/American Strategy Program and the Committee for International Trade of the Saudi Chambers of Commerce — is important, but some of the headliners are:
Under Secretary of State WILLIAM BURNS
Former Saudi Ambassador to US Prince TURKI AL-FAISAL
International Peace Institute Chair RITA HAUSER
Financial Times Washington Bureau Chief EDWARD LUCE
Saudi Minister of Finance IBRAHIM AL-ASSAF
Former National Security Advisor ZBIGNIEW BRZEZINSKI
Former National Security Advisor BRENT SCOWCROFT
State Department Policy Planning Director ANNE-MARIE SLAUGHTER
UK Ambassador to the US NIGEL SHEINWALD
Former CIA, State, and National Security Council Senior Official FLYNT LEVERETT
French Ambassador to the US PIERRE VIMONT
Saudi Minister of Commerce ABDULLAH ALIREZA
BusinessWeek Washington Bureau Chief JANE SASSEEN
Saudi Monetary Agency Governor MUHAMMAD AL-JASSER
Senate Foreign Relations Committee International Economics Chief HEIDI CREBO-REDIKER
Former US Senator and Ambassador to Saudi Arabia WYCHE FOWLER
Jadwa Investments Chief Economist BRAD BOURLAND
New America Foundation Geopolitics of Energy Initiative Director and former National Security Council Senior Director for the Middle East FLYNT LEVERETT
Saudi Royal Court Advisor ABDULRAHMAN AL-SAEED
Department of Defense Principal Deputy Asst for International Security Affairs JOSEPH McMILLAN
. . .and others
The public part of the conference starts at 8:30 am on Monday, 27 April at the Georgetown Four Seasons Hotel but will be aired here live.
The event is already full beyond capacity — so watching the streaming on the internet may be most comfortable for folks.

The entire program is here:
The New America Foundation and the Committee for International Trade
cordially invite you to a major national policy forum
US-SAUDI RELATIONS IN A WORLD WITHOUT EQUILIBRIUM
Monday, 27 April 2009
The Four Seasons Hotel
2800 Pennsylvania Avenue NW
Washington, DC

8:00 am
Registration & Coffee
8:45 am
Welcoming Remarks
9:00 am
A Forward Projection of What the Saudi-US Relationship Should Look Like and Needs to Achieve

The Honorable Chuck Hagel
Former United States Senator
Distinguished Professor in the Practice of National Governance, Georgetown University
Chairman, Atlantic Council of the United States
His Excellency HRH Turki Al-Faisal
Chairman, King Faisal Center for Research & Islamic Studies
Former Ambassador of Saudi Arabia to the United States
Former Director, Saudi Arabia Intelligence Services
Rita E. Hauser
Chairperson, International Peace Institute
Chair, Director's Council, New America Foundation
The Honorable Zbigniew Brzezinski
Trustee & Counselor, Center for Strategic & International Studies
Chair, Center for Middle East Public Policy, RAND Corporation
Former National Security Advisor to President Jimmy Carter
Co-Author, America and the World: Conversations on the Future of US Foreign Policy
The Honorable Abdulla Alireza
Minister of Commerce, Saudi Arabia
moderator
Steve Clemons
Director, American Strategy Program, New America Foundation
Publisher, The Washington Note
10:30 am
Economics as a National Security Imperative: Challenges for Saudi Arabia and the U.S.

The Honorable Ibrahim Al-Assaf
Minister of Finance, Saudi Arabia
Brad Bourland
Chief Economist, Jadwa Investments
Former Chief Economist, Samba Financial Group
The Honorable Muhammad Al-Jasser
Governor, Saudi Arabian Monetary Authority
Heidi Crebo-Rediker
Chief, International Finance and Economics
Senate Foreign Relations Committee
Flynt Leverett
Director, Geopolitics of Energy Initiative, New America Foundation
Former Senior Director for the Middle East, National Security Council
moderator
Jane Sasseen
Washington Bureau Chief, BusinessWeek

12:00 pm
Blackberry Break
12:15 pm
Luncheon and Address
America's Strategic Choices and Challenges in the Arabian Gulf and Beyond
The Honorable William J. Burns
Under Secretary of State for Political Affairs
Former US Ambassador to Russia
1:45 pm
Blackberry Break
2:00 pm
Through Saudi Arabia's Window and Other Lenses: Middle East Dynamics and Stakeholder Challenges
The Honorable Anne-Marie Slaughter
Director of Policy Planning, Department of State
Former Dean, Woodrow Wilson School of Public & International Affairs, Princeton University
His Excellency Nigel Sheinwald
Ambassador of the United Kingdom to the United States
Former Foreign Policy and Defense Adviser to Prime Minister Tony Blair

The Honorable Abdulrahman Al-Saeed
Director General, Specialized Studies Center/Riyadh
Advisor to the Royal Court

The Honorable Wyche Fowler
Former U.S. Ambassador to Saudi Arabia
Former United States Senator

Joseph McMillan
Principal Deputy Assistant Secretary for International Security Affairs
Department of Defense
His Excellency Pierre Vimont
Ambassador of France to the United States
Former Chief of Staff to Minister of Foreign Affairs, Republic of France
moderator
Edward Luce
Washington Bureau Chief, Financial Times
3:30 pm
Closing Comments and Adjournment

Steve Clemons
Director, American Strategy Program, New America Foundation
and Publisher, The Washington Note
The Honorable Abdulrahman Al-Saeed
Director General, Specialized Studies Center/Riyadh
Advisor to the Royal Court
— Steve Clemons