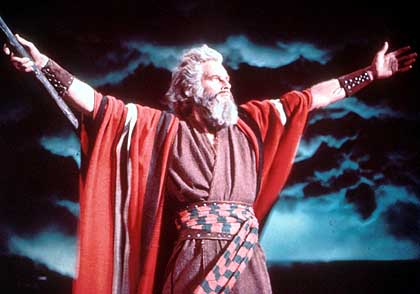 I grew up mostly attending Department of Defense schools around the world and the U.S. — and The Ten Commandments seemed like it aired on our TV's at least once a month — but certainly at Easter and Christmas. I loved watching it — have to admit.
Charlton Heston, a scion of Hollywood's small but strident right wing, has passed away at 84.
When I lived in Los Angeles, I ran into Charlton Heston now and then but have nothing significant to report — except one really interesting phone encounter.

When Richard Nixon died, I was working with the Richard Nixon Library in organizing a sister organization, the Nixon Center.
There were so many phone calls into the library on the news of the former President's death, that no one there could do much dependable phone logistics work. All the lines were essentially down.
Library Foundation Director John Taylor asked me to help contact all of the VIP contacts of Nixon and the Library's to help figure out who should get a limo pass and seat at the Yorba Linda funeral, and I worked with former Senator Howard Baker to figure out the most important names — and then proceeded to call 500 people from my West Hollywood apartment.
One of them was Charlton Heston who lived in Beverly Hills.
When I asked Mr. Heston if he would like to attend President Nixon's funeral, his response was: "In what capacity?"
I wasn't sure what he meant, so I repeated the question of whether he'd like to attend and whether he would need a limo/town car pass — and told him that I'd make arrangements for him in the family section.
He said, "I thank you for all that — but will I have a role?"
I said I couldn't really arrange that. After all, we already had a program that featured Billy Graham, Bill Clinton, Bob Dole, Henry Kissinger, California Governor Pete Wilson, and others.
And then he said, "No, I can't attend. Thank you for the offer."
But on the phone, Heston was giving me the Ben Hur/Moses voice the whole time. Richard Nixon's funeral was one of the most interesting political gatherings I have ever been a part of — and now that I think of it, having Heston there in semi-Moses mode is about the only thing that might have made it more dramatic than it already was.
— Steve Clemons
Continue reading:

A Dufus Moment in Riyadh
Riyadh: The View from My Window