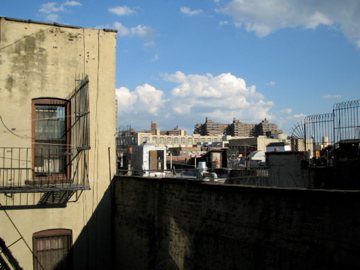 Apart from this, I haven't posted at all recently, in part because I've been moving back to New York and into a new apartment. On the plus side, $2 for ten delicious dumplings, the world's best pickles and world class soccer are right around the corner (my half-serious goal is to break into the floating Steve Nash/Claudio Reyna pickup game this summer). The big strikes against the new place are Williamsburg bridge traffic noise, carrying my furniture up six flights of stairs and outrageous New York City rent.
My plan is to occasionally post here throughout the year. Readers looking to contact me in the future should be able to get my e-mail through the NYU directory, but apparently I don't exist as a student there just yet. That should change in the next week.
— Scott Paul
Additional Note: I strongly agree with Charles Brown here. Shame on Glenn Greenwald. I've worked with Morton Halperin for a few years and right or wrong, he's no political mercenary. He's a person with plenty of integrity and passion, and I have no reason to doubt the purity of his motives.