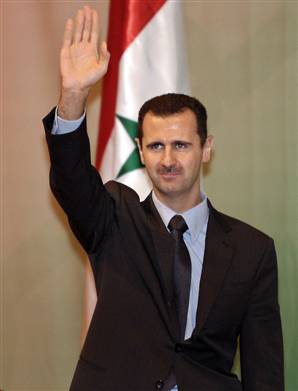 Demetri Sevastopulo of the Financial Times is one of the best intelligence/national security journalists in the business — and by the tone of this article, "North Korea 'Helped Syria Build N-Plant'", which will appear as the top, front page lead in tomorrow's FT, he sounds as if he is convinced that the North Koreans were helping Syria to build a nuclear reactor.
Last year, Mark Mazzetti of the New York Times — also one of the best young investigative journalists in town — also ran some pieces that argued this point compellingly. Seymour Hersh of the New Yorker, nuclear proliferation expert Joseph Cirincione, and Arms Control Wonk publisher Jeffrey Lewis have been in the skeptics camp.
I too have been hanging out with the skeptics — but when this bombing raid occurred on 6 September 2007, I was amazed at the pace of flow of what might have been highly classified information from high level Israeli intelligence officials and compartments within the US intelligence community to people like John Bolton.

Bolton was one of the first to begin speaking publicly about the possibility that Israel's target was a nuclear plant. I was on an Al Jazeera television program with Washington Institute on Near East Policy foreign policy expert Patrick Clawson on the morning of September 14th — and Clawson shared well-developed scenarios of what the Israelis might have done in Syria and why. His narratives were detail rich and obviously derivative of high quality conversations with intelligence insiders.
If this story turns out to be right, then someone somewhere should ask why John Bolton is not being punished for trafficking in secrets that he no doubt got from Cheney's apparatchiks in government.
But there are many other important questions that policy makers and analysts need to wrestle with if, indeed, the intelligence being shared today with 200 Members of Congress is as slam dunk as some have suggested.
The first question is "Why would Syria do this?" Quick response is that it doesn't make sense at all — unless the security paranoia of Syria's political leadership regarding its wrestling match with a technologically superior Israel over Lebanon made it decide to try and build a nuclear weapon.
Syria's economy and technological base seem quite poorly equipped to sustain a serious nuclear research and development effort. Also, Syria would have to purchase uranium or plutonium from suppliers somewhere in the world — and both are hard to hide, particularly plutonium, which would be preferred for the weapons track. Thus, whether the plant was destroyed today — or at a later time — the acquisition of any plutonium would be the day the plant was, to borrow a recent phrase from Hillary Clinton, "obliterated."
More fundamentally though, let's imagine these reports are absolutely true — and Syria was getting North Korea assistance to build a nuclear plant and ultimately a bomb.
This would affect the entire strategic profile of the Middle East — and would really unleash Saudi Arabia, Egypt, and Turkey who would not be able to avoid the requirement of also having a warhead program.
If a nation like Syria, emulating North Korea, was trying to acquire the bomb — then it means that the bar for acquisition is far lower than most had believed credible. Israel's 200 warheads become an important part of the picture as Israel alone enjoys a nuclear, massive retaliation monopoly in the Middle East — and this fact may be driving rival states to decide that they need covertly to acquire nukes to balance Israel's portfolio.
This is a huge problem, not easily solved.
Jeffrey Lewis and others have argued that the site that was bombed did not provide the space or capacity to capably service a real nuclear reactor. If the videotape that will be shown to Congress shows otherwise, it will be important for other commentators to get access to this material — or at least access to those with access — to see if their assessments stand or whether they flubbed up.
But the mere prospect that lots of small, underdeveloped states may be out to covertly build nukes should scare us all — and we have a real collapse of the nuclear non-proliferation regime that must be addressed first among many other contending priorities.
— Steve Clemons