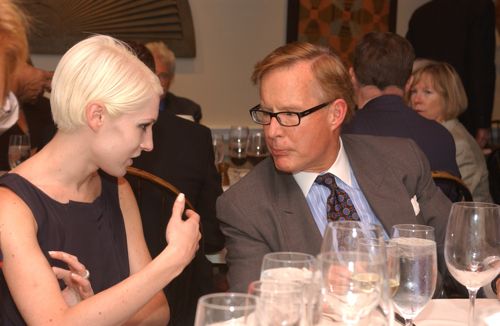 (National Interest editor Justine Rosenthal talks with News Hour with Jim Lehrer Senior Foreign Policy Producer Michael Mosettig at New America)
I read many journals, including Foreign Policy, Foreign Affairs, The American Interest, and others — but I am particularly into The National Interest, the journal that realist Owen Harries ran for years within the Irving Kristol compound simultaneously balancing evolving neoconservative thinking with the important and then dominant currents of realist foreign policy thought.
When I was serving as Executive Director of the Nixon Center, I spoke with my then bosses — Dimitri Simes at the Nixon Center and John Taylor at the Richard Nixon Library & Birthplace — about the possibility of trying to wrestle this important journal from Irving Kristol. It didn't happen when I was there as I went to work in the Senate as senior foreign policy and economic policy advisor to Senator Jeff Bingaman (D-NM), but years later, Dimitri Simes pulled it off and brought one of the great journals of foreign policy opinion over to his institution.
Today, The National Interest and its parent organization The Nixon Center have announced that Justine Rosenthal will succeed the talented and now academically-directed Nikolas Gvosdev as the journal's new Editor.
Rosenthal has a sharp wit, knows her stuff, and gets marketing — and that is what "realism" as a field needs more of.
Too many realists think that they themselves have to convey a dark, Hobbesian world of anarchy, chaos, wars, and messiness to be effective. My pal John Mearsheimer is one of these types in my 'friendly' estimation. Rosenthal has the talents, in my view, to update the realist framework, spiff it up, provoke debates with neocons, liberal interventionists, and even with the close sibling of realism, the liberal internationalists.
According to an announcement I got a sneak peak at:
Rosenthal joined The National Interest in 2007 from the Atlantic
Monthly Foundation, where she served as Director. She has considerable experience in both think tanks and academia, including fellowships at the Brookings Institution and Brown University's Watson Institute. She also served as director of the executive office at the Council on Foreign Relations. She holds a BA from the University of Chicago and MA and Ph.D. degrees in Political Science from Columbia University. Rosenthal has written extensively on international security, terrorism and nuclear weapons proliferation and has traveled widely in Asia as a Luce Scholar.
My hunch is that Justine Rosenthal will spice up the press releases that go forward under her watch. With all due respect to my friends at the Nixon Center, the release was a bit drab for such an acquisition. Rosenthal is sharp, intellectually tuned into the trends afoot in the national security field, and dresses — well — a bit like someone that the Devil Wears Prada must have been modeled on.
I think that The National Interest is going to be an exciting vehicle in its next phase — and all congratulations as well to the outgoing Editor, Nikolas Gvosdev, who has decided to take a teaching position at the Naval War College in Newport, Rhode Island.
I'm a regular reader of his blog, The Washington Realist, which I hope he keeps up.
We'll miss Nik Gvosdev — but very much look forward to what Justine Rosenthal does with one of the most important foreign policy journals in the business.
— Steve Clemons
Continue reading:

John McCain's Spoof of Democratic Battle
Looking for the Next "Mr. X"