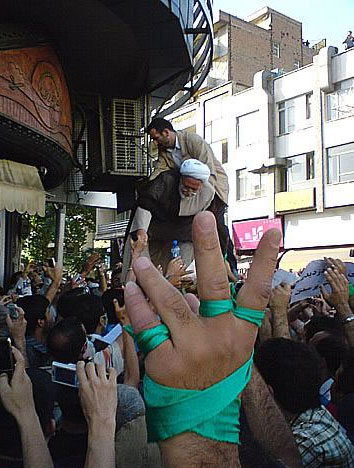 For about a day, I have been quite worried about the "Anonymous Student in Tehran" who was sending important dispatches to us of what he was seeing convulsively unfold in Iran. He had been quiet all day.
But we've just had a set of exchanges, and he's OK. I just learned that he will have an op-ed in tomorrow's New York Times under the pseudonym "Shane M."
"Shane M." also discussed what he's been seeing on today's "All Things Considered" on National Public Radio. You can listen to him at the link.
So, our anonymous dispatcher is getting an even wider audience for his richly detailed, captivating observations.
Here is something he shared tonight:
It's 4:30 in the morning and I'm still in front of the computer…I just can't keep up. I pray that we don't hit disaster following the Guardian Council decision.
I don't think that the people will give up…it may all come down to what Mousavi decides to do. I attended a meeting of Mousavi supporters two nights ago and the report was that the man was standing strong (that's the "Turk" I was talking about…), but I wonder if he will continue to do so if the answer is "no, you lost."
Will these three men, Karrobi, Mousavi, and Rezaei step aside, like Gore in 2000?
Thanks for spreading the word. A revised version of the last piece is, insanely, going to get published in the NY Times tomorrow.
Please, please use all of your considerable influence to stop this silliness about "North Tehran/the Iranians were fooled." A friend told me that Joe Klein went on CNN today with a version of this bogus narrative and everyone was so impressed. I just don't understand it.
More tomorrow from "Shane M."
(photo credit: Madyar's blog)
— Steve Clemons
Continue reading:

Twitter Wars in Iran
Crowds, Crowds, Crowds All Over Iran