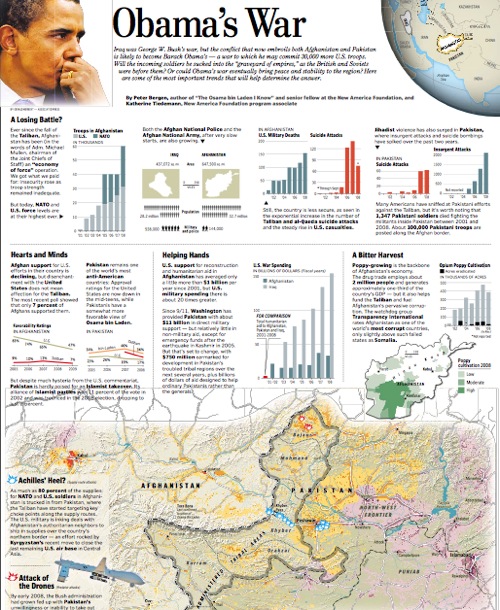 My New America Foundation colleagues Peter Bergen and Katherine Tiedemann have secured a full page in today's Outlook Section of the Washington Post in a special graphic depiction full of useful data sets titled "Obama's War."
For a full sized pdf, click here. For more information, go to the "Obama's War" section of the New America Foundation site.
Read through the data — which is pretty bleak all around.
~~~
In other news, The Washington Note made the list of Bryan Appleyard's Top 100 blogs in the Sunday Times today. Appleyard picked just six "world affairs" blogs for his roster and wrote about them:
www.normblog.typepad.com
Based in Britain, Norman Geras offers an indispensable window on the world, culling items from newspapers and blogs from around the globe so you get a regular focus on what's caught his eye, as well as his intellectual, humane comments on what he's found.
willwilkinson.net/flybottle
The blog of a high-grade Washington policy wonk, this works well as a hub — providing links to good articles elsewhere — but also as the thoughts and brief essays of a very smart man. A superb way into the mind of America.
andrewsullivan.theatlantic.com
Andrew Sullivan's blog, like Wilkinson's, is both a hub and a personal testament. The assumption is that you are on the journey with Sullivan, that you read him every day, as indeed millions do.
kausfiles.com
Part of Slate magazine, Mickey Kaus's blog is a good stop for witty and non-PC politics.
thewashingtonnote.com
Informed comment from Steve Clemons, of the New America Foundation, on DC politics and US foreign policy.
truthdig.com
A feisty, left-leaning American news and comment blog that promises it will be "drilling behind the headlines". Anything is game, but it naturally has its bead on the new American administration's performance to date.
blogs.fco.gov.uk/roller/harare
An extraordinary blog maintained by the staff of the British Embassy in Harare. It must be unique in the annals of British diplomacy — embassy officials saying what they really think (and describing the perils of going to a Zimbabwean toilet while they're at it).
Very cool. Thank you Bryan — and I'll offer gentle encouragement to my blogger friends at the British Embassy here in DC to begin trying to emulate their colleagues in Zimbabwe.
~~~
And for those interested, I have a piece coming out in the Daily Yomiuri about Hillary Clinton's trip to Asia — with specific reference to Japan and what she needs to accomplish on the trip.
The paper gave it the headline: "CLINTON'S VISIT TO JAPAN / Japan must receive attention it deserves."
But I wish it had read "Japan Needs to Work Harder to Justify American Attention it Deserves Anyway".
My bottom line is that Japan is a globally significant stakeholder nation in world affairs and neglecting it is very wrong-headed, but Japan has to come out of its shell as well — and stop "flying beneath the radar screen" as one former Japanese Ambassador to the US told me Japan was doing on most policy matters with the US after the terrorist attacks of 9/11/2001.
More soon.
— Steve Clemons