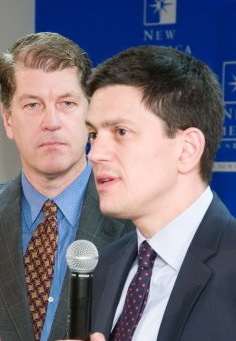 Today between 11 am and noon EST, Steve Coll and I will be moderating a transatlantic new media roundtable discussion with UK Foreign Minister David Miliband.
Steve Coll — who just won the PEN/John Kenneth Galbraith Award for Nonfiction for his book The Bin Ladens: An Arabian Family in the American Century — will be doing his part from Washington with a room full of interesting writers, bloggers, and mostly new media types — though some who ought to be in new media who aren't quite there yet — will also be joining us.
I will be weighing in from Berlin, Germany — over Skype.
I have a great deal of respect for Miliband who has done more perhaps than any other senior level international diplomat to reach out to bloggers and stakeholders in the new media political and policy scene.
A couple of years ago, I was a beneficiary of Miliband's and the UN Foundation's efforts to get serious policy bloggers credentialed for the UN General Assembly. Miliband is a blogging foreign minister (and perhaps future blogging prime minister) — and has connected with The Washington Note a number of times.
The fact that David Miliband takes blogging seriously himself and constantly works to connect with younger, new opinion leaders and policy hands who are working hard to evade the cartels of official journalism has set the gold standard among all foreign ministers.
There will be a number of bloggers and new media types who will be sending questions in from wherever they are around the world. I will be on Skype and commenting here and there — and then among those joining us are:
LAURA ROZEN of Foreign Policy's "The Cable"; DAVID CORN who 'bureau chiefs' for Mother Jones and also blogs; MIKE GOLDFARB who is editor The Weekly Standard's
The Blog; JAMES JOYNER who blogs at "Outside the Beltway" and at The Atlantic Council; GEORGE STEPHANOPOULOS of ABC's This Week; ROBERT SCHLESINGER who blogs at US News & World Report. . .
and Taylor Marsh of TaylorMarsh.com; JOE KLEIN of TIME's Swampland; MARK SCHMITT of The American Prospect and New America Foundation; HENRY FARRELL of Crooked Timber; DAYO OLOPADE of Madayo.com; TOBY HARNDEN who blogs at The Daily Telegraph. . .
and LANE HUDSON who blogs at Huffington Post; MJ ROSENBERG of the Israel Policy Forum and TPMCafe; BRIAN YOUNG who is directing the new media makeover of the Senate Foreign Relations Committee. . .
and British Ambassador to the US NIGEL SHEINWALD who is himself blogging now will also be with us.
So too wil be the New Republic's MICHAEL CROWLEY — who will be in New York; Newsweek's MARK HOSENBALL, and AP's DESMOND BUTLER. And more. . .
Should be a very interesting session — including discussion themes of how new media is affecting diplomacy, US and UK perspectives on the AfPak mess, whether the global democracy project is indefinitely suspended, and other issues.
Watch the live streaming here at The Washington Note at 11 a.m. DC time (or 5 p.m. if you happen, like me, to be in Berlin).
— Steve Clemons