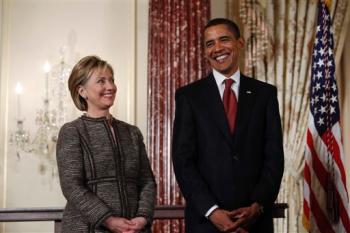 I will be chatting with Rachel Maddow today on her Air America Radio show on the subject of Barack Obama's foreign policy team. (airs at 6 pm EST)
Obama's visit to Foggy Bottom yesterday was so surprising, so different than President Bush, that it really caught me by surprise. His visit automatically raises the morale among foreign service officers and the many others holding up the foreign policy operations of the country — and makes the loud statement that diplomacy — and diplomats — matter.
Jacob Heilbrunn has a very nice piece today online over at The National Interest titled "Raising Foggy Bottom". In this segment, which should be read in full, he suggests that Obama is "righting the balance between diplomacy and military force":
Barack Obama's visit to the formerly beleaguered State Department on Thursday to welcome the appointments of Hillary Clinton, Richard Holbrooke and George Mitchell set exactly the right tone, as did his revocation of the Bush administration's ham-handed approach to the war on terror.
No, diplomacy won't solve all of America's foreign-policy problems and even playing kissy-face with the mullahs in Tehran wouldn't get Washington very far. But what Obama is doing is something else–righting the balance between diplomacy and military force, much as Defense Secretary Robert Gates has insisted upon, and something that Admiral Mike Mullen also eloquently called for at a recent Nixon Center dinner honoring him.
Key leaders in the military are resisting the militarization of foreign policy, and Obama, who called in his inaugural address for America to lead by example, is moving in the right direction.
Very, very smart move by Obama.
— Steve Clemons