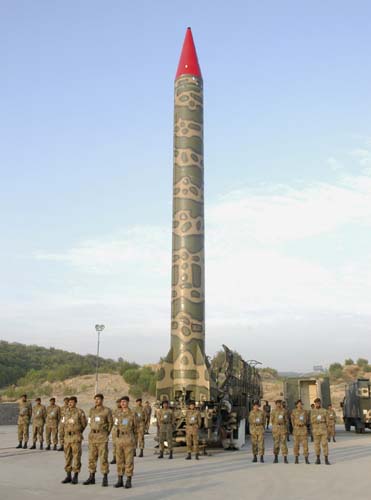 David Sanger has an important and revealing piece coming out Sunday on the security and survivability of Pakistan's nuclear arsenal. In addition to depicting the vulnerability of Pakistan's nuclear complex, the article illuminates some other pressing elements the incoming administration will need to apprehend. First, the folly and failure of US laws prohibiting distribution of PALs (permissive action links) is undeniable — though at this point one would assume and hope the US has by bypassed these laws to covertly assist in the indigenous development of Pakistani PALs.
Second, as many analysts predicted, the Pakistani military continues to dominate and control national security matters despite the changeover to civilian rule over a year ago. Sanger recounts how in the summer of 2008, Prime Minister Gilani not only failed to carry out a madrassa crackdown, he remained unaware of the operation's failure that was undermined from within. The anecdote is reminiscent of Prime Minister Bhutto's peripheral status on national security matters when in the late 1980s the CIA had to inform her during her of the Pakistani military's nuclear program. This time, however, the US national security establishment did not even bother to inform Gilani of his ignorance. The episode confirms that — though its profile has diminished and moved out of the media spotlight — the Chief of Army Staff will remain the chief interlocutor for US security interests in the region.
But the punch line arrives towards the end of the article comes as it reveals some in the current administration have begun to prioritize Pakistan over Iraq or Afghanistan as the chief national security priority, given the lethal mix of extremist elements, nuclear weapons, a geopolitical hotzone, and geography that borders more than a third of the world's population.
Though few in Washington will admit it, it is the right question. At the end of Bush's term, his aides handed over to Obama's transition team a lengthy review of policy in Afghanistan and Pakistan, concluding that in the end, the United States has far more at stake in preventing Pakistan's collapse than it does in stabilizing Afghanistan or Iraq.
"Only one of those countries has a hundred nuclear weapons," a primary author of the report said to me. For Al Qaeda and the other Islamists, he went on to say, "this is the home game." He paused, before offering up the next thought: For anyone trying to keep a nuclear weapon from going off in the United States, it's our home game, too.
Despite early movements particularly from Biden's side of the ledger, it remains to be seen whether the incoming national security team agrees with these assessments.
— Sameer Lalwani
Continue reading:

Another Day to Vote. . .
Dogs Could Help Bridge DC's Foreign Policy Divides