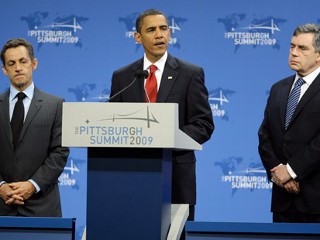 Given the tumultuousness in many parts of America's foreign policy portfolio, it's easy to nitpick and criticize (which I do frequently), but I have to tip my hat to President Obama's measured and positive comments today following the conclusion of what are officially called the P5+1 Negotiations with Iran.
P5+1 refers to the five permanent members of the UN Security Council and Germany.
Note that the President does not even mention the word "sanctions."
While the "strategic depth" in some corners of the President's national security team is weak — I believe that there is strategic depth on the National Security Council nuclear non-proliferation/Iran teams.
Here is the relevant section of President Obama's statement:
Today, in Geneva, the United States — along with our fellow permanent members of the UN Security Council — namely, Russia, China, France and the United Kingdom, as well as Germany — held talks with the Islamic Republic of Iran.
These meetings came after several months of intense diplomatic effort. Upon taking office, I made it clear that the United States was prepared to join our P5-plus-1 partners as a full participant in talks with Iran. I extended the offer of meaningful engagement to the Iranian government. I committed the United States to a comprehensive effort to strengthen the Nuclear Non-Proliferation Treaty, so that all nations have the right to peaceful nuclear power — provided that they live up to their international obligations.
And we have engaged in intensive bilateral and multilateral diplomacy with our P5-plus-1 partners — and with nations around the world — to reinforce this point, including an historic U.N. Security Council resolution that was passed unanimously last week.
The result is clear: The P5-plus-1 is united, and we have an international community that has reaffirmed its commitment to non-proliferation and disarmament. That's why the Iranian government heard a clear and unified message from the international community in Geneva: Iran must demonstrate through concrete steps that it will live up to its responsibilities with regard to its nuclear program.
In pursuit of that goal, today's meeting was a constructive beginning, but it must be followed by constructive action by the Iranian government.
First, Iran must demonstrate its commitment to transparency. Earlier this month, we presented clear evidence that Iran has been building a covert nuclear facility in Qom. Since Iran has now agreed to cooperate fully and immediately with the International Atomic Energy Agency, it must grant unfettered access to IAEA inspectors within two weeks. I've been in close touch with the head of the IAEA, Mohammed ElBaradei, who will be traveling to Tehran in the days ahead. He has my full support, and the Iranian government must grant the IAEA full access to the site in Qom.
Second, Iran must take concrete steps to build confidence that its nuclear program will serve peaceful purposes — steps that meet Iran's obligations under multiple U.N. Security Council resolutions. The IAEA proposal that was agreed to in principle today with regard to the Tehran research reactor is a confidence-building step that is consistent with that objective — provided that it transfers Iran's low enriched uranium to a third country for fuel fabrication. As I've said before, we support Iran's right to peaceful nuclear power. Taking the step of transferring its low enriched uranium to a third country would be a step towards building confidence that Iran's program is in fact peaceful.
Going forward, we expect to see swift action. We're committed to serious and meaningful engagement. But we're not interested in talking for the sake of talking. If Iran does not take steps in the near future to live up to its obligations, then the United States will not continue to negotiate indefinitely, and we are prepared to move towards increased pressure. If Iran takes concrete steps and lives up to its obligations, there is a path towards a better relationship with the United States, increased integration with the international community, and a better future for all Iranians.
So let me reiterate: This is a constructive beginning, but hard work lies ahead. We've entered a phase of intensive international negotiations. And talk is no substitute for action. Pledges of cooperation must be fulfilled. We have made it clear that we will do our part to engage the Iranian government on the basis of mutual interests and mutual respect, but our patience is not unlimited.
This is not about singling out Iran. This is not about creating double standards. This is about the global non-proliferation regime, and Iran's right to peaceful nuclear energy, just as all nations have it — but with that right, comes responsibilities.
The burden of meeting these responsibilities lies with the Iranian government, and they are now the ones that need to make that choice.
More analysis later — but these are good signals, though it's best to stay in the arena of low expectations for the next several rounds.
— Steve Clemons
Update: This from Michael Adler at the Daily Beast with some important and promising details on the confidence building package moved Iran's way. — Steve Clemons
Continue reading:

Jim DeMint's Coup?
Good Start with Iran?