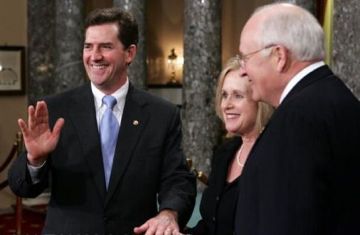 A movie on the Honduras coup may not be the big draw that the Tom Hanks film, Charlie Wilson's War, was — but one has to wonder whether we are seeing a remake in which a lone Member of Congress, this time a US Senator from South Carolina, drags the country into the internal affairs of another small nation.
Senator Jim DeMint (R-SC) has announced that he is heading down to Honduras to encourage those who helped fund and supported the coup against Honduran President Manuel Zelaya to resist American pressure to return Zelaya to office.
The US Department of State has begun to revoke the visas of wealthy supporters of the military coup.
In other words, Jim DeMint is acting on behalf of, in cahoots with, and against the foreign policy of the United States of America in encouraging post-coup Honduran government officials defy the United States. He is encouraging a political leadership which has no legitimacy and which not recognized by other democracies in the region — while the ousted President makes cell phone UN General Assembly statements from a couch-bed in the Brazilian Embassy in Tegucigalpa.
A US Senator alone does not make the America's foreign policy, and working against the policies of the United States in collaboration with foreign officials. . .well. . .there are words that come to mind to describe this behavior, but I want to be civil towards the Senator.
But let me be less blunt. Should we require Senator DeMint to register with the Foreign Agents Registration office at the Department of Justice?
— Steve Clemons
Update: DeMint GROUNDED by Senator John Kerry and President Obama. . .
DeMint Statement on Kerry & Obama Administration Blocking Fact-Finding Trip to Honduras
WASHINGTON, D.C. – Today, U.S. Sen. Jim DeMint (R-South Carolina), member of the Senate Foreign Relations Committee and chairman of the Senate Steering Committee, made the following statement after Foreign Relations Chairman John Kerry (D-Massachusetts) and President Obama's State Department blocked Senator DeMint's planned fact-finding trip to Honduras at the last minute.
"These bullying tactics by the Obama administration and Senator Kerry must stop, and we must be allowed to get to the truth in Honduras. Not a single U.S. Senator has traveled to Honduras to learn the facts on the ground. And the Obama administration won't allow Honduran officials or even businessmen to come to the U.S., either. While this administration has failed to act decisively in Afghanistan, it is has no problem cracking down on a democratic ally and one of the poorest nations in Latin America."
"Meanwhile, a thorough report from the Congressional Research Service directly contradicts President Obama's snap decision about the legality of then-President Zelaya's removal from office in June. Now, President Obama and Democrats' blind support for this would-be dictator and friend of Hugo Chavez will prevent members of Congress from learning the truth first hand."
This is not fiction. Tough to believe I know.
— Steve Clemons