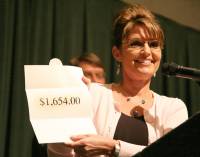 I just received an email that has just begun to kick around since Friday. Like the email from Anne Kilkenny, this email may be written by an Alaska resident.
The email allegedly comes from a lawyer for the National Wildlife Refuge, Don Mitchell. I have confirmed that there is a naturalist and writer named Don Mitchell — but I have been unable to confirm that he actually wrote this. I should also add that the original email, before it was sent to me, had a lot of name-calling and harsh words, which have been removed by the person who passed it on to me.
But whether Don Mitchell wrote this or not, there is a point in the email that deserves attention: you can be an awful governor and hide a lot of errors when you run an oil producing state when a barrel of crude runs between $100 and $140.
And the whopper in this note is that she sent even larger checks to all of Alaska's citizens on top of the Alaska Permanent Fund dividends while Alaska has been in surplus rather than investing in infrastructure that the state badly needs.
So no matter the provenance of this piece allegedly by Don Mitchell, it is important reading:
This is from an old college friend of Charlotte's, Don Mitchell. He is a lawyer for the National Wildlife Refuge in Alaska, lives there and testifies a lot in Washington, D.C. This is what he sent out to about 30 people who e-mailed him on Friday. Send it on if you think it appropriate.
_________________________________________
In lieu of responding one by one to the telephone calls and email traffic, as of this afternoon, my view of the Palin situation is as follows:
Sarah has been one of the most incompetent governors in Alaska history. She knows next to nothing about the nuts and bolts of state government, the little she does know about it she doesn't like, and most of the people she has appointed to help her are worse than she is.
But Sarah's operational incompetence has been masked by $120 to $140 a barrel oil….
To cite one of many examples, Sarah has felt so bad about Alaskans having to pay $4.26 for regular when we fill up on Saturday mornings at Costco that, in addition to the $2,000 the state is sending us in October as our share of this year's earnings from the Alaska Permanent Fund, Sarah is sending every man, woman, child in Alaska an extra $1,200 (at a total cost of almost $1 billion).
For that she has received universal acclaim for having had the imagination to craft such a sensible state energy policy.
More later.
— Steve Clemons
Editor's Note: Thanks to A.S. for sending this our way.