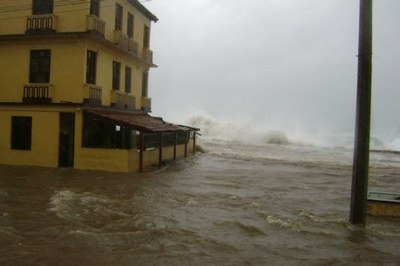 This is what Hurricane Ike looks like in Baracoa, Eastern Cuba. This pic was sent in by my friend and Havana Note co-editor Gail Reed, who is Director of MEDICC.
For those interested in helping out victims in need in Cuba — who took a direct hit from Hurricane Gustav a few days before Ike hit — check out this informative appeal from Sarah Stephens at the Center for Democracy in the Americas.
In her informative, compelling letter, Stephens points to seven places that can help get aid to Cubans in need:
Center for Democracy in the Americas
Global Links
Operation U.S.A.
MEDICC
Catholic Relief Services
Jewish Solidarity
Daughters of Charity
Natural disasters and humanitarian relief are always good opportunities to change the game in political situations that make no sense — like the embargo or even the Cuban resistance to the terms of offered American government aid.
But even this disaster is yet another missed opportunity for the governments involved which makes it even more important for others who care to help.
— Steve Clemons
Continue reading:

Palin's Alaska Record: Who is Don Mitchell?
China Piece. . .and IAEA