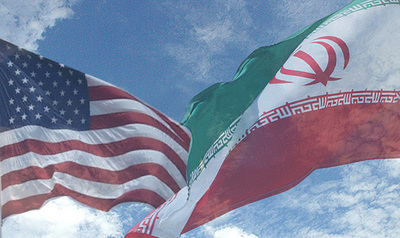 Iran's nuclear program is the one issue above all others that is preventing a whole-hearted American effort to change the parameters of the U.S.-Iran relationship.
Each side has set a red line, and the lines are miles apart. The United States continues to demand that Iran halt its nuclear program, and Iran insists that it will not. A rapprochement is not possible unless one side moves its red line forward.
In an op-ed in the New York Times last Sunday, New America Foundation/Senior Fellow Flynt Leverett and former State Department and National Security Council official Hillary Mann Leverett offer the Obama administration a way to move its red line forward in a way that avoids sacrificing core American national interests.
The authors suggest that the United States has no choice but to accept Iran's right to a civilian nuclear program, but that it might be able to get Iran to agree to an international inspections regime that prevents Iran from building a nuclear weapon – a status like that of Japan.
The argument for this kind of arrangement is supported by an International Crisis Group policy briefing published yesterday called "U.S.-Iranian Engagement: The View from Tehran."
The report – which draws on exclusive interviews with high-level Iranian officials – supports the Leveretts argument in two ways.
First, it explains that "[Tehran's] red line is the right to enrich on its soil; anything less will be viewed as unacceptable." The Iranian leadership has invested too much political capital in its nuclear program to dismantle it under American pressure. No comprehensive deal will be possible if the Iranian people perceive the leadership to be caving to American demands.
Second, the leadership has likely not decided whether to pursue a weapon and is well aware of the risks that developing a weapon would entail. These include not only the likely international repercussions (further isolation, the threat of a military strike, a regional nuclear arms race), but also the fact that a weapon would shift the internal balance of power toward the Revolutionary Guard Corps, which would control the weapon.
The BBC proffered the Japan model idea to President Obama in its interview with him yesterday:
Justin Webb: A couple of former members of the National Security Council actually have suggested that you should go further, though, and that Iran should be regarded in the same way as Japan. That, in other words, nuclear reprocessing should be accepted, but monitored by the international community. Is that remotely possible?
President Obama: I think that the key, right now, is to initiate a process that is meaningful, that is rigorous, between not only the United States and Iran, bilaterally, but also continuing with the P5 plus one discussions, in a way that's constructive. Without going into specifics, what I do believe is that Iran has legitimate energy concerns, legitimate aspirations. On the other hand, the international community has a very real interest in preventing a nuclear arms in the region. Now-
Justin Webb: But could Iran have the right to reprocess energy?
President Obama: Now one point that I want to make is that in my speech in Prague, I talked about how we need to reinvigorate a much broader agenda for nuclear nonproliferation – including the United States and Russia drawing down our stockpiles in very significant ways, to the extent that Iran feels that they are treated differently than anybody else. That makes them embattled.
To the extent that we're having a broader conversation about how all countries have an interest in containing and reducing, over time, the nuclear proliferation throughout. That, I think, has to be part and parcel of our broader agenda.
It appears that Obama is leaving the door open to some kind of arrangement similar to what the Leveretts suggest, but that he isn't yet ready to take the leap without a broader international consensus on what an updated non-proliferation regime will look like.
— Ben Katcher