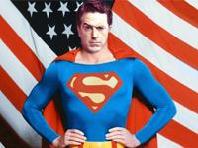 Across my desk just came an interesting newspaper supplement packed with some thoughtful national security related interviews and commentary from the Munich Security Conference. The publication was jointly published by the Sueddeutsche Zeitung and the American Academy in Berlin.
There's a lot in this I wish I could link to but none of it seems to be on the web. So, I will highlight three quick pieces — dealing with John McCain, Samantha Power, and outgoing Under Secretary of State for Political Affairs R. Nicholas Burns.

In John McCain's oped titled "Transatlantic Duties" on the front page of the paper — though below the fold — he writes:
To help manage the challenges of the 21st century, I support the creation of a worldwide League of Democracies. It would not supplant the UN or other international organizations, but complement them by harnessing the political and moral advantages offered by united democratic action. . .
I miss the John McCain who had more Nixonian DNA in his speeches and thinking. What exactly Senator McCain blocks "united democratic action" today? Nothing. The notion that a new international network of democracies moves the world forward on any of its key, fundamental challenges seems out of line with reality to me. We need non-democracies to work hard with us in the process of solving problems — and this notion of a Concert of Democracies provides not just a demarcation between them and us that already exists but erects a giant wall.
In another oped, "The Lady of Change," by Suddeutsche Zeitung foreign editor, the pre-resigned Samantha Power is highlighted and to a certain degree celebrated for her "unconventional" thinking on national security issues.
I particularly liked the following paragraph:
Barack Obama has generated the greatest amount of resistance by indicating that hew sould negotiate, without any preconditions, with authoritarian regimes like Iran and Syria. "Absolutely" she says, "that's what negotiations are for. You don't negotiate with your friends; you negotiate with your enemies." Chavez, Ahmadinejad, Assad: "Obama believes it's actually tougher to be in a room with them rather than throw verbal grenades at rogue regimes five thousand miles away." The establishment has declared this position to be blasphemy, but Powers replies by saying: "Take Cuba. Last time I checked this embargo policy wasn't working. How many decades does it have to be in place for us to realize it's not working?"
Absolutely right Samantha Power — but why can't we get Obama to embrace even the Bush administration status quo in US-Cuba relations before George W. Bush tightened famility travel and curtailed non-tourist people to people travel in 2004???
Lastly, in a piece titled "Thinking About Europe as a Global Power," R. Nicholas Burns is interviewed by the Sueddeutsche Zeitung. (I just found a transcript of a much longer interview from which the one I was reading was excerpted.)
QUESTION: What could be done to actually build on that strategic common view within the next administration? . . .The frameworks are there, the issues are there, but there seems to be a lot of things out of sync still.
UNDER SECRETARY BURNS: I think it's quite understandable why Europeans would be preoccupied with the construction and evolution of the EU, the European Union. It's a historic enterprise. It's positive for Europeans and the world. So I quite understand that.
At the same time I have a strong sense that Europe needs to develop a stronger role in the world and a more ambitious sense of Europe's contributions beyond Europe. In other words, a better defined global strategy.
The EU and NATO are both institutions that are operating well beyond Europe. Sometimes I think that Europe is so preoccupied by the internal construction of the EU and of European problems that it isn't sufficiently ambitious and articulate in engineering an aggressive, ambitious global strategy. We, the United States, want Europe to play that role. We want Europe to be active in the Middle East where our vital interests are engaged. We want Europe to be more active in Afghanistan and more willing to contribute a greater number of troops, for example, in Afghanistan.
We need Europe to be a factor in the strategic situation in East Asia for the next generation, and to be present in trying to bring growth and prosperity as well as security.
So I think a more ambitious global role for Europe is in order. The United States certainly sees itself as a global power, and Europeans might begin to think of themselves as a global power as well, in a way that would parallel the interests that the U.S. and Europe have in common.
Burns is very pragmatic and sensible when thinking about national security dilemmas — and in this comment you see to some degree an appropriate assessment that American power in the world is limited — and that Europe could and will be a significant force in global affairs. I think Europe is there more robustly than Burns may concede — but it is important.
And that takes me to a final link from the Washington Post today that in a review by Charles Gati offers a glowing review of my colleague Parag Khanna's new book, The Second World: Empires and Influence in the New Global Order.
Essentially, Khanna would counter Nick Burns and say that Europe is already out there on relative par with the US in many ways — and China too — and the three power centers are competing to influence "the second world" of nations that are not third world powers, nor superpower wannabes.
For more from Khanna on video this is a short three minute clip on the subject.
— Steve Clemons