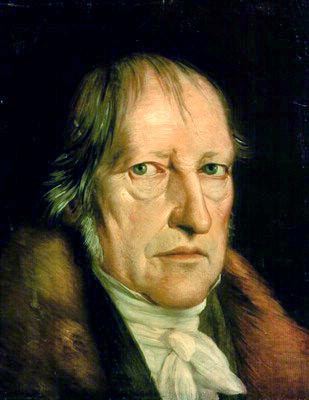 Georg Wilhelm Friedrich Hegel
My colleague Michael Lind — who is Senior Fellow and Director of the New America Foundation's American Infrastructure Initiative — offered some thoughts on what the future might look like over at The New Republic's "The Plank".
His entire, short essay deserves a read, but I particularly liked this last section, and particularly found the last paragraph intriguing:
The U.S. economy a decade from now may be dominated by a few huge universal banks and a small number of gigantic corporations, all of them "too big to fail." In return for implicit government bail-out guarantees, these swollen private-sector Leviathans will abandon "greed is good" rhetoric for noble sentiments about corporate responsibility. The emerging system might be called "lemon corporatism." A managerial state dominated by oligopolies and monopolies, where government encourages employer paternalism as an alternative to public welfare spending, would resemble contemporary Japan and the dystopian America of "Rollerball."
Barring new, unavoidable conflicts, the Pentagon is also likely to be downsized, following the reduction of the U.S. efforts in Iraq and Afghanistan. The U.S. will remain the leading great power, but there will be no new American century, nor will Europe, hit even worse than the U.S., be a plausible partner in a Pax Atlantica. As in the 1970s, the U.S. will find itself in a multipolar world, struggling in both the commercial and the military arenas.
Hegel called this kind of irony "the cunning of history." Beginning in the 1970s, libertarians and neoliberals promised that deregulation would produce a borderless utopia for small enterprises and entrepreneurs. Instead, the result of free market fundamentalism is a global financial collapse that may produce an America with bigger government, more paternalism, and a financial and corporate oligopoly.
— Steve Clemons