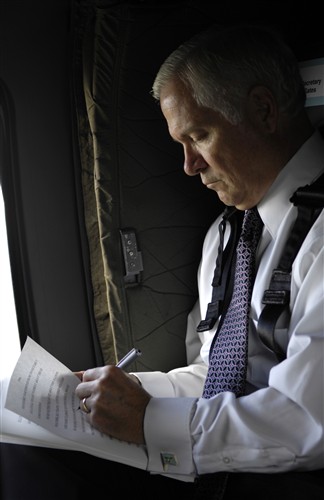 Defense Secretary Robert Gates, much less visible than any other personalities on the Obama national security team roster, is playing the role of "steady hand" on the President's team.
Gates has demonstrated this by keeping his own profile down while his national security colleagues, Secretary of State Hillary Clinton and Vice President Joe Biden in particular, chase the spotlight to a greater degree and seemingly crave visibility and credit for various moves and shifts that the Obama administration has made. The way they are playing their roles is natural.
Gates hangs back in contrast, advising, lurking — and laying the groundwork for change with Russia, China, even perhaps Iran.
Gates has momentarily come out of the shadows and made two key statements that are particularly important and show him to be a steadying influence and stabilizer on the Obama team.
First, he has pushed back against military command requests for more troops and a larger "military footprint" in Afghanistan. General David Petraeus made clear in testimony yesterday that commanders were seeking 10,000 more troops than those already requested by President Obama — but Gates is publicly expressing his discomfort with this course and thinks that the current troop levels committed and new strategy needed to be field tested before considering pouring more combat forces into the Afghanistan-Pakistan equation.
Secondly, as Demetri Sevastopulo has just written in an important Financial Times piece, Gates is pushing newly sworn in Prime Minister Benjamin Netanyahu back on Iran.
In a report by the Atlantic Monthly's Jeffrey Goldberg, Netanyahu bluntly stated that Israel would take care of Iran if the United States did not.
Gates, in the Sevastopulo interview, essentially knocks Netanyahu back by suggesting that he thinks we are not close to any "red line" action against Iran. Joint Chiefs of Staff Commander Michael Mullen has similarly emphasized that the Middle East is already unstable enough at the moment — and more instability would not be welcome.
Demetri Sevastopulo writes:
Robert Gates, US defence secretary, has said Israel is unlikely to attack Iran this year to prevent Tehran from developing a nuclear weapon.
In an interview with the Financial Times, Mr Gates said there was still enough time to persuade Iran to abandon what is widely perceived to be a nuclear weapons programme.
Mr Gates said he does not expect Israel – which believes the US estimate for when Iran could develop a nuclear weapon is too sanguine – to take military action this year.
"I guess I would say I would be surprised…if they did act this year," said Mr Gates.
As he was sworn in as the new Israeli prime minister this week, Benjamin Netanyahu warned that the greatest danger to Israel was Iran's attempt to develop nuclear weapons. But asked whether Iran would cross a nuclear "red line" this year, Mr Gates said: "I don't know, I would guess probably not".
"I think we have more time than that. How much more time I don't know," said Mr Gates. "It is a year, two years, three years. It is somewhere in that window."
Israel raised the spectre of war last year by conducting a large scale military exercise that some experts saw as a practice run for an attack on Iran. Admiral Mike Mullen, the chairman of the US joint chiefs, later delivered an unusual public warning following a visit to Israel, saying "this is a very unstable part of the world, and I don't need it to be more unstable".
From what we know at this moment, Robert Gates deserves credit on a number of fronts. These include de-colonizing the intelligence bureaucracy that Donald Rumsfeld aggrandized around the Department of Defense that then undermined much of the intelligence reform that was part of establishing a new Directorate of National Intelligence.
Gates has also been an impressive lead proponent in trying to lessen — on a relative basis — the military dimensions of America's response to international security problems and has called for far greater resources for our diplomatic efforts, aid efforts, at overall State Department resources.
Like Vice President Biden, Gates seems cautious about advocating much larger US troop deployments and a bigger "military footprint" than already exist in Afghanistan — and now he is making himself the personal "offset" for Netanyahu's strident commentary about Iran.
Gates is setting an example in how to manage the complex challenges facing the Obama team that others would be wise to follow. He seems focused on strategy and generating the outcomes America needs — and seems reluctant to support reckless deployments of power abroad, which was more characteristic of the last President he served, and thinks that the real bridge-building and strategic shifts America needs will combine behind the scenes type work like he is doing followed by the photo-ops that he leaves to his administration comrades.
Obama would be smart to encourage similar steadiness — and to a certain degree, selflessness, among those executing his policies.
National Economic Adviser Lawrence Summers comes to mind as someone who should sign up for lessons from the lurking but constructive Defense Secretary.
— Steve Clemons