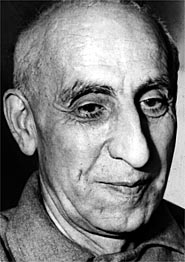 Senate Foreign Relations Committee Chairman John Kerry has a very sensible piece in the New York Times today. Kerry gets the strategic issues between the US and Iran — but he also understands that what is happening in the streets of Tehran matters. Obama has to be very careful of becoming an easy target for Ahmadinejad and a state apparatus that will now fear its own people.
As I mentioned in a New York Times article by Helene Cooper and Mark Landler today, I believe that Barack Obama's dismissiveness about differences between Ahmadinejad and Mousavi and a narrow focus on Iran's nuclear gambit was a mistake. Obama may not have meant to but he conveyed disrespect for the process at play now in Iran — and what is important for Obama and others in the national security establishment to understand is that Iran's election is not over.
John Kerry references Mossadegh in his good op-ed — and what I find fascinating is that in Iran's narrative, the US has been a villain for robbing them of their democracy and installing the Shah. Now, in a palace coup, Ahmadinejad has robbed the Iranians of the belief they had in their own version of an Islamic democracy, and he has become the new villain.
"Death to America" has now been replaced by "Death to the Dictator."
From John Kerry's piece:
Mir Hussein Moussavi, the leading reformist presidential candidate, has advocated a more conciliatory approach to America. But his political legitimacy comes from his revolutionary credentials for helping overthrow an American-backed shah — a history that today helps protect protesters against accusations of being an American "fifth column."
Iran's internal change is happening on two levels: on the streets, but also within the clerical establishment. Ultimately, no matter who wins the election, our fundamental security challenge will be the same — preventing Iran from acquiring a nuclear weapon. That will take patient effort, and premature engagement in Iran's domestic politics may well make negotiations more difficult.
What comes next in Iran is unclear. What is clear is that the tough talk that Senator McCain advocates got us nowhere for the last eight years. Our saber-rattling only empowered hard-liners and put reformers on the defensive. An Iranian president who advocated a "dialogue among civilizations" and societal reforms was replaced by one who denied the Holocaust and routinely called for the destruction of Israel.
Meanwhile, Iran's influence in the Middle East expanded and it made considerable progress on its nuclear program.
The last thing we should do is give Mr. Ahmadinejad an opportunity to evoke the 1953 American-sponsored coup, which ousted Prime Minister Mohammed Mossadegh and returned Shah Mohammed Reza Pahlavi to power. Doing so would only allow him to cast himself as a modern-day Mossadegh, standing up for principle against a Western puppet.
— Steve Clemons