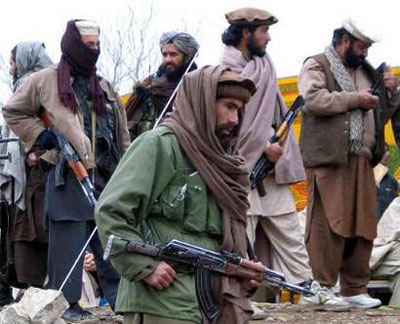 The highest estimate of Taliban fighters in Pakistan (TTP) I had seen or heard until today was 20,000 (though inclusive of newer recruits and "conscripts"). In Afghanistan, the estimates I had seen (depending on whether it was based on US or Pakistani intelligence) ranged from 5,000-15,000 fighters.
Somehow I missed an important revised estimate, likely as most of us have been all aflutter over Iranian elections. The Daily Times, a fairly reputable Pakistani daily published out of Lahore and Karachi reported two weeks ago that the Pakistani Taliban's strength, manpower, and organizational capacity are likely much greater than originally anticipated:
After tasting the toughness of [Baitullah Mehsud's] subordinate Taliban group in the Malakand division, one can estimate the kind of power he will use when challenged. In North Waziristan, considered a territory of the Jalaluddin Haqqani group, he has Nur Syed Amir, Faqir Dawar and Haji Aftab Khan; the last-named also charged with looking after Baitullah's foreign guests from the Arab world, Central Asia, Chechnya in Russia and Xinjiang in China. Commanders who lead bands of Taliban marauders in other agencies are: Hakimullah (Orakzai and Kurram with 8,000 men), Rehmanullah and Hazrat Ali (Khyber, 1,200), Umar Khalid (Mohmand, 5,000), and Faqir Muhammad (Bajaur, 5,000). Baitullah himself is estimated to dispose of 30,000 warriors, supplemented with Tahir Yuldashev's 4,000 Uzbeks and other "foreigners". The TTP could have nearly 50,000 men at its disposal. If you also count the non-Baitullah Taliban, the total estimate comes to over 100,000.
According to some estimates, Baitullah could have in his kitty around Rs 4 billion to spend annually. This money comes from drugs facilitated by Al Qaeda contacts, Arab money from the Gulf, money made from kidnapping for ransom, looting of banks, smuggling and "protection money" in general. He has weapons produced in Russia, the US and India, and has been looting explosives produced at the Wah munitions factory.
This bears some important implications even if it is only halfway accurate. The good news is that this might actually raise Pakistan's estimation of the Taliban, at least sections commanded by Mehsud, to an existential threat (which operationally, at least up until now, has not been the case, despite claims by US or Pakistani officials even during the battles in Bajaur and Swat). The bad news of course is that the Pakistani Army will have to face an exceptionally difficult task of dislodging a very powerful Taliban, flush with a $50 million annual budget, from the tribal belt.
If Mehsud calls in Taliban support from across the border, this might provide coalition forces in Afghanistan some much-welcomed breathing room, but it raises the prospect of a battered and demoralized Pakistani army — one that is still unprepared and training for this type of warfare — even if it eventually prevails in what will certainly be a long fight. That does not bode well for anyone — not the US, Afghanistan, nor Pakistan.
It also probably doesn't help that US air strikes are targeting Mullah Nazir while Pakistan is trying to cut a deal with him to avoid taking on the entire TTP coalition.
— Sameer Lalwani
Update: My colleague, Paul Staniland, who is far better acquainted with this subject than I, writes:

seems pretty massively high to me. Daily Times is fairly reputable, but note how much vagueness they deploy to arrive at that figure. if they mean "young men who could carry guns who are linked in some loose fashion to insurgents" i guess maybe, but 50,000 is massive for an insurgent group, and 100,000 basically up to Chinese/Russian civil war sizes. seems implausible to me. also, keep in mind that this is an editorial trying to rouse resistance and defiance, so inflating the numbers is in its interest.

I am partial to this take, but I still think that if the Pakistani army has had tactical difficulties in previous campaigns — not to mention strategic complications like the 3 million refugees, the largest since 1947 partition, that functions as a breeding ground for militant recruits — when Pakistani army to militant ratios have been 4:1 or higher, any estimates that push the numbers of TTP fighters upwards increasingly forecasts a very bloody conflict in Waziristan.