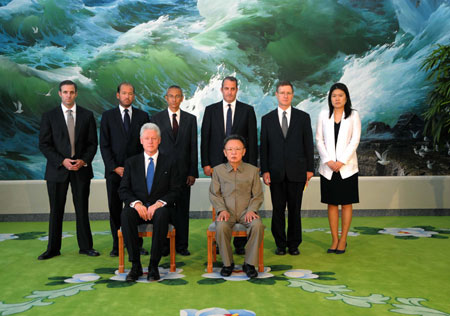 Bill Clinton is flying back to the US with just pardoned journalists Euna Lee and Laura Ling who were sentenced to 12 years of hard labor in North Korea.
It's great that they are free — but deploying Bill Clinton to secure their release was not about bringing a complicated human drama to a close — but rather to steady North Korea's unpredictable behavior and to hopefully set up a face-saving opportunity to resume nuclear negotiations.
Senate Foreign Relations Committee Chairman John Kerry gets the tone exactly right in his public statement about the release of the journalists. In his statement, he quickly moves to the strategic issues that need attention.
Kerry states:
North Korea is doing the right thing by granting Mrs. Ling and Mrs. Lee amnesty and letting them return to their families. I hope this goodwill gesture will create a new, more positive tone in U.S.-DPRK relations. This joyous day belongs to them and their families, who never gave up hope that the women would be released.
The statement from his office goes on:
Senator Kerry has called on the United States and the Democratic People's Republic of Korea (DPRK) to promptly resume talks on denuclearization. According to Senator Kerry, "This moment shouldn't be lost. North Korea's pursuit of nuclear weapons is a threat to regional security and stands as an obstacle to what the people of North Korea most want: respect, security, development, and peace.
But the United States, in concert with the Republic of Korea, Japan, China and Russia — our partners in the Six Party Talks — remains willing to engage in a mutually respectful dialogue with the DPRK to accomplish the goals of denuclearization and normalization and to create a permanent peace mechanism for the Korean Peninsula."
Chronic North Korea-name caller John Bolton is furious — but Bill Clinton has pulled a rabbit out of the hat and given the Obama administration a new opportunity to rein in North Korea's nuclear proclivities.
I'll post my video segment about this high wire diplomatic act from Keith Olbermann's Countdown shortly.
— Steve Clemons