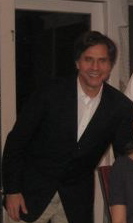 From my point of view, Senator Joe Biden is an inspiring, experienced, over-the-top smart, fast-running boss who is a handful. He wrestles with ideas. He wrestles with his team. They knock him back. He knocks them back. He gives great zinger speeches and occasionally zinger gaffes. And they all laugh it off and move forward.
Risk averse politicians and risk averse staff are under-performers in Washington. Biden and his team work hard on solutions — and they take risks. Some times they belly-flop, and that is the kind of political hand we need to see in the Vice President's office and close to the next President of the United States at such a historically pivotal time for the nation.
Biden has a few people he's had around forever and some new additions to his insider crowd. Three of the best — though there are more I won't mention — are Senate Foreign Relations Committee Chief of Staff Antony Blinken, Senate Foreign Relations General Counsel Brian McKeon, and Senate Office Chief of Staff and former Biden presidential campaign director Luis Navarro.
Working Mother magazine — the journal of record for juggling moms — just commended Joe Biden and his staff with its "Best of Congress Award". And along with Biden's "family friendly" disposition with his office staff, he said "get out of here" to Foreign Relations Committee Chief of Staff Tony Blinken who went off to Hawaii to vacation with his family.
Blinken enjoyed the surf and sun for about two days — and then guess what, he's back in D.C. I know that he would not be thrilled by my reporting this.
And some in the Foreign Relations Committee office in the Senate have said that I should not read anything in to his being back in Washington.
Right. . .
Something is up — and it's very good.
The next thing I need to find out is whether Luis, Tony & Co. are heading to Springfield to show off that two day tan.
— Steve Clemons
Continue reading:

Obama/Bayh Bumper Stickers?
Wait Til America Gets to Know JILL BIDEN