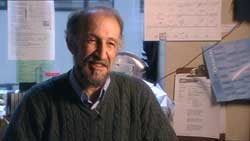 Inter-Press' Jim Lobe, who also writes the LobeLog blog, has a good piece of analysis out about the impact of the recent elections in Israel on the Middle East peace process.
Lobe interviews Marc Ginsberg, Aaron David Miller, M.J. Rosenberg and me. Miller is the most pessimistic. Ginsberg, who I ran into last night at the Metropolitan Club at a party with Colorado Senators Michael Bennet and Mark Udall, made it clear to me that there is still an opportunity to nudge the key parties together to get a credible process going.
Both M.J. Rosenberg and I think that having Netanyahu in charge actually presents more opportunities than obstacles in that it removes the gauze of believing in moderation from the Israeli side — and gives Obama's team the opportunity to play tackle ball.
I realize that there are many who disagree with my take — but I think that Israel-Palestine issues are fundamental to any broad resolution in the Middle East, and that we can't afford for the Middle East peace business to produce and preside over more failure.
Here are some of the perspectives that Lobe wove into his essay:
"I think it's going to be really tough, because in addition to a …divided Palestinian national movement …you now have to add to that, although the crisis isn't the same order of magnitude an Israeli divided house," according to Aaron Miller, a veteran U.S. Mideast peace negotiator now with the Woodrow Wilson Centre here. "And broken houses in the Middle East don't lead to bold and historic decisions."
"George Mitchell is an extraordinary negotiator, a talented man. I have profound respect for him," Miller told public television's Newshour. "But the Obama administration is all dressed up, but there's nowhere right now for them to go."
Marc Ginzburg, a former ambassador to Morocco, agreed, writing in the Huffington Post that "both Israelis and Palestinians are increasingly caught in a vortex of radicalism that is marginalizing the so-called silent majorities on both sides who recognise there is no hope for peace without a two-state solution. That is why the dynamics of the equation must change, and can only change with creative, persistence diplomacy, and, yes, new approaches that require hard choices."
Some analysts, however, believe the dynamics could indeed change, particularly if Netanyahu forms a solidly right-wing government, and Obama is willing to take him on, much as former President George H.W. Bush took on former Likud Prime Minister Yitzhak Shamir.
"It will be easier for President Obama to deal with Netanyahu than with the almost equally hawkish Livni because… her seeming moderation is a nice cover," wrote the IPF's M.J. Goldberg. "A Netanyahu government would have no such cover, (and) any acts of sabotage to the peace process or new misery inflicted on the Palestinians would likely be strongly opposed by the United States. Israel's most slavish 'friends' in Congress – almost all Democrats – would find it hard, although far from impossible, to choose Netanyahu (who is very close to Republicans) over Obama."
"I think the best path towards peace would be for Netanyahu to form a right-wing government because it will make clear that the Israelis and Palestinians can't make peace by themselves," said Steve Clemons, head of the American Strategy programme at the New America Foundation.
"A right-wing government in Israel will show that the only way to purge what has become an increasingly destructive geo-strategic ulcer is for the United States, Europe, the U.N., Russia, and key Arab stakeholders to coalesce around a two-state solution whose outlines are already well known, and impose it."
"The U.S. and the much of the rest of the world simply can't afford the recklessness, immaturity and sheer stupidity of leadership on all sides of the conflict to continue," he added.
— Steve Clemons