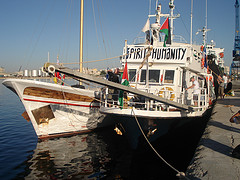 Jonathan Guyer is a Program Associate for the New America Foundation/Middle East Task Force.
Last week, the mainstream media only touched on the attempt by the Free Gaza Movement to reach the occupied territory by boat. Israel Defense Forces boarded their vessel, The Spirit of Humanity, which was carrying humanitarian aid. In spite of the incarceration of former Congresswoman Cynthia McKinney and Nobel Peace Prize winner Mairead Maguire, along with nineteen other activists who were aboard the ship, the story has gained little traction on our side of the ocean.
Yesterday, Congresswoman McKinney arrived safely back in the US, and in an interview, she emphasized the need for a new approach to Gaza:
What happened to us pales in comparison to what happens to the people of Gaza everyday, to Palestinians everyday, and so we can't forget that we have a new administration. This new administration promised us hope and change. We expect a change in the policies that are put forward from Washington, DC. We have yet to see that. We need to press further and press harder to achieve that.
Gaza is still a taboo subject for American leadership. Even as President Obama briefly acknowledged Gaza in his Cairo University speech ("And just as it devastates Palestinian families, the continuing humanitarian crisis in Gaza does not serve Israel's security."), not enough has been done on the ground to allow the flow of humanitarian and reconstruction aid.
The UN Office for Coordination of Humanitarian Affairs in the Occupied Palestinians Territories (OCHA-oPT) recently reported that the weekly inflow of goods remains disturbingly below the needs of Gaza's people:
This week, a total of 417 truckloads of goods entered Gaza, less than 18% of the weekly average during the first five months of 2007, before the Hamas takeover. The entry of other major essential goods, including materials for reconstruction, spare parts for water and sanitation projects, and industrial and agricultural materials remain barred from entry or restricted to limited quantities.
Until Israelis, Americans, and the international community face up to the ongoing humanitarian crisis in Gaza, the potential for escalation and another outbreak in violence hangs in the air.
— Jonathan Guyer